Podcast: Play in new window | Download
Sexual super powers. Go!
Dylan is back. This makes us happy.
So, a question came up about sexual super powers. Dawn and Dylan start imagining all the things you could do if you had a sex super power. What would yours be?
In the DC area in August? Then join Dawn at the Woodhull Sexual Freedom Summit from August 13-16. Learn more on their website.
You know we love hearing from you, so here's how to reach us
Call or text: 747-444-1840 (standard messaging rates apply)
Email: info@sexgetsreal.com
Contact form: Click here (and it's anonymous)
How to listen to our fabulous little podcast
Use the player at the top of this page.
Episode breakdown
0:28 – Dylan had a blast at Pride and an ego boost. All the ladies were trying to climb her tree.
1:03 – Three girls grinding up on Dylan? Oh yeah.
1:50 – Thigh high rainbow socks poking out of knee high boots made for a sassy gogo dancer at the club.
3:41 – Magical sexual superpowers.
4:05 – Dylan knows what she'd want right off the bat.
4:36 – Penis envy. Dylan has it.
4:53 – "I want a peen."
5:10 – We all know the answer to this one, but Dawn wants to know how big Dylan's penis would be.
5:39 – Just relax. Dylan's coming for your ass.
6:10 – Dawn contemplates her sexual super powers. Maybe mind reading so she can be the ultimate lover?
6:24 – Or maybe every time you had sex you burned 10,000 calories? Or got a six-pack?
6:30 – Or maybe invisibility mode so you could fuck anywhere?
7:00 – Just say no to the super tight pussy. No one likes painful sex when it's not a choice.
7:23 – Vibrations would be awesome. Or insta-orgasms.
8:21 – Nope. Dawn came up with the best superpower ever. She's scrapping all the others for this one.
9:48 – "I wish he'd pound me just a little harder."
10:40 – What if your power was best orgasm of their lives every time?
10:48 – And then things get gross. No. Just no. Worst super power ever.
11:45 – What would your sexual super power be?
13:11 – See below for that funny image of the older folks talking about smoking.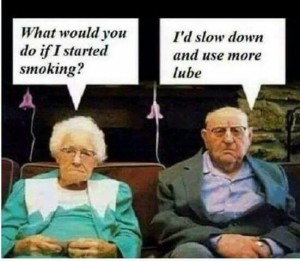 And be sure to pin, share, and Instagram this bad boy