Podcast: Play in new window | Download
ONE YEAR. BEST OF. BOOM.
First, make sure you sign up for the Healthy, Authentic Relationship Summit that is on February 12th and 13th. It's free and we have two days' worth of experts weighing in on all things relationship. Dawn's talk is on Thursday, February 12th at 6pm Eastern. RSVP here.
Second, scroll to the bottom of the page to enter our One Year Anniversary sweepstakes to win a personalized gift from us. The giveaway ends February 7th, 2015, so get thee down there now!
On to the episode, we had a phenomenal first year with Sex Gets Real. This is a compilation of some of our favorite and most ridiculous moments – from Dylan's burps and stories about being a total player to Dawn's rants about safe sex and her struggle with cum ropes. You'll laugh. You'll shake your head. And you'll hear just how real we really are.
Thank you for being a listener. We know we couldn't do any of this without you. MWAH!
You know we love hearing from you, so here's how to reach us
Call or text: 747-444-1840 (standard messaging rates apply)
Email: info@sexgetsreal.com
Contact form: Click here (and it's anonymous)
How to listen to our fabulous little podcast
Use the player at the top of this page.
And be sure to pin, share, and Instagram this bad boy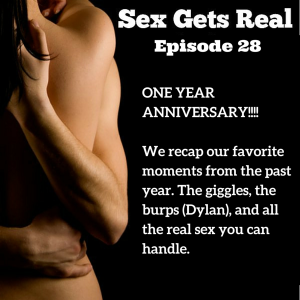 SWEEPSTAKES!!!!!
Runs January 25th – February 7th. US residents only.