Podcast: Play in new window | Download
We go back to Mid Atlantic Leather, talk disco muffs, and discover the Vagankle
Dawn and Dylan are kicking off their one-year anniversary with a KICK-ASS giveaway. Check out the Sex Gets Real Facebook page to enter and for details or enter at the bottom of the page (US residents only).
They also went back to Mid Atlantic Leather and all of the naked gay boys with their leather vests and floggers and flagging and BDSM.
It was a smelly good time. If you want to see the flagging colors and report back, here's the color code: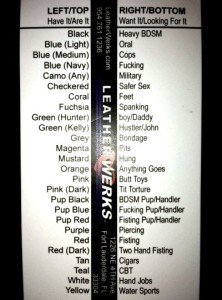 Plus, don't miss Dylan's giggles over the Vagankle. If you're a foot fetishist, you're going to love this find. Silicone feet you can fuck. With paintable toe nails. So much feet. What are your thoughts?
You know we love hearing from you, so here's how to reach us
Call or text: 747-444-1840 (standard messaging rates apply)
Email: info@sexgetsreal.com
Contact form: Click here (and it's anonymous)
How to listen to our fabulous little podcast
Use the player at the top of this page.
Episode breakdown
0:20 – Check out our one-year anniversary sweepstakes giveaway. It's a copy of Violet Blue's "The Ultimate Guide to Sexual Fantasy" and Dawn and Dylan will sign it with a personalized message for you. SO COOL!
0:52 – Celebrate with us. Next week's episode will be a best of from our first year.
1:44 – Enter to win down below or on our Facebook page.
2:25 – Our first episode was at Mid Atlantic Leather, so we go back.
2:37 – Soaking up sweaty, naked, leather-loving gay men.
2:48 – Flagging – what colors would you be? Dawn goes with grey, checkered, and light blue.
5:19 – Dylan wonders about cop play.
5:23 – What's Dylan flagging? Let's just say that it involves fucking and being hung.
6:27 – Feel free to laugh as Dylan calls herself "tame".
6:50 – Our new toy means all the spanking we want without our hands getting tired.
8:10 – Find out how the BDSM demo was at this year's Mid Atlantic Leather compared to last year's.
9:29 – Of course, there was that dick being electrocuted.
10:40 – And the wall of dicks…we're noticing a trend.
11:47 – Things you can't unsee. We're both scarred.
12:47 – At the nipple demo, someone had on some MEAN nipple clamps.
13:46 – By the end, all we could smell was ass, leather, and sweat.
17:08 – Dylan is still loving on the buttplug tails.
17:45 – Let us begin the tale of the Vagankle. It's a foot fetishist's dream.
20:30 – There is literally a fetish for everything, including cannabalism.
24:20 – We also found a super realistic silicone ass at MAL. Of course, we had to spank it. More than once. And then Dylan ponders fucking it…
And be sure to pin, share, and Instagram this bad boy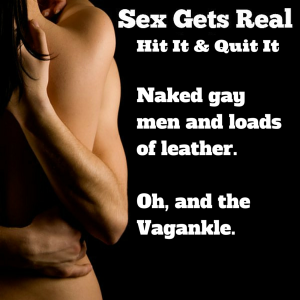 SWEEPSTAKES!!!!!
Runs January 25th – February 7th. US residents only.