Podcast: Play in new window | Download
Formidable Femme, aka Sarah B Holliday, is here this week talking about sex toy companies, the ethics of selling sex toys, rejecting the perfect survivor narrative, healing from trauma, plus we field a listener question about abuse.
Sarah is deeply committed to changing the way the sex toy industry operates, and she has loads of ideas about what makes for an ethical company in this field and where companies often fail.
Let's stop gendered toys and the marketing we use to promote them and instead center marginalized identities and bodies to make sex and pleasure truly inclusive.
In the intro, I also mention the Uma Thurman interview for NY Times and the Daily Beast article about Reid Mihalko. Here's a spreadsheet with conversations about the Reid situation if you'd like to see what other sex educators are saying.
We also discuss Sarah's terrific advice to sex toy companies, plus a few books for navigating trauma including "The Body Keeps the Score" and "Healing Sex."
You'll also want to check out our bonus chat on Patreon all about pleasure as revolution, as liberation, and resistance. I mean, if masturbating means we're giving a big F you to the sex negative oppressive world, who are we to deny ourselves the pleasure? Patreon supporters at the $3 level and above get access, so head over and listen now. http://patreon.com/sexgetsreal
If you want to grab my latest workshop on ethical porn and how to use porn in your relationship or any of my other online courses and workshops, you can check that out at dawnserra.com/courses.
Follow Sex Gets Real on Twitter and Facebook. It's true. Oh! And Dawn is on Instagram.
In this episode, Sarah and I talk about:
Sarah's research into how to craft a revolutionary model of sex ed in the US.
What kind of ethics should sex toy companies have? Which businesses are feminist and which are not?
What was the big turning point that caused Sarah to write a blog post titled, "I am a survivor and I will never support Lelo again."
Whenever a sex toy company royally screws up, what can they do to redeem themselves? Or is it even possible to recover from their mistake?
Sarah's fantastic blog post, Eight Commitments that Companies can do in 2018, that you should totally check out because #8 is my fave.
Find out which sex companies are getting it right – in their marketing, their product design, and in their leadership.
Vibrant, a new-ish sex toy company, has marketing that is completely gender inclusive. Also part of their profits go to support their local Planned Parenthood. YAY Vibrant!
Sarah also loves She-vibe, based out of Portland. They recently overhauled their website to include a diverse range of people and body types on their website.
Why now, in the Age of Trump, is it more important to support your local independent sex toy store?
Advocating for body safe sex toys is part of reproductive justice. When we restrict access to pleasure it is often from the same place as restricting access to sex education and abortion services.
There has been so many stories about sexual abuse and harassment in the past few months. This has caused some to feel social pressure to speak up about their own experiences. But is there a right way for survivors to share their stories? Sarah explains why she doesn't expect survivors to forgive if they are not ready to.
Sam is a long time listener and wrote in with the subject line of "Abusive Relationships".  They had a prior relationship with an abusive partner and now don't feel safe around other men, even avoiding interacting with them in everyday life. They are currently in therapy but wonders if that is common and what ideas Dawn has that will help her move on.
We can feel fun and the erotic and connection with platonic relationships.
About Sarah B. Holliday: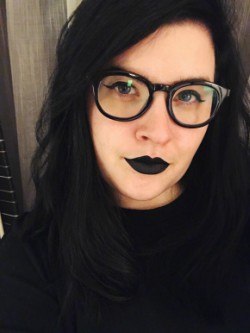 Sarah Brynn Holliday (pronouns: she/her) is a queer femme feminist sex blogger, educator, and consultant. She has a background in abortion rights and access, queer and trans liberation, and radical, pleasure-and-trauma-informed sex education.
Sarah runs 
formidablefemme.com
, where she writes about how sexuality intersects with queerness, feminism, depression, and trauma. Much of her work centers around pushing for ethical, equitable, feminist business practice within the sex toy industry and helping people learn about how they can reclaim sex and pleasure after trauma. Sarah is also a Pleasure Professional with 
O.school
, a radical, inclusive platform for online sex education.
Listen and subscribe to Sex Gets Real
Use the player at the top of this page.
Now available on Spotify. Search for "sex gets real".
Find the Sex Gets Real channel on IHeartRadio.
Hearing from you is the best
Call or text: 747-444-1840 (standard messaging rates apply)
Contact form: Click here (and it's anonymous)