Podcast: Play in new window | Download
Talking to other sex educators, researchers, and experts is one of my favorite things in life, especially when the conversations are rich, personal, nuanced, and challenging.
I met Cavanaugh Quick through O.School (where we both live stream sex ed for free), and the first time I saw Cavanaugh talk about feminist porn, I knew I wanted to have them on the show.
This episode is incredibly beautiful and real. From the reality of being awkward to practicing being aroused in public, from consent and non-verbal body cues to kink and getting your first vibrator, Cavanaugh offers a warm, kind, thoughtful perspective that feeds my soul.
You'll also want to check out our bonus chat on Patreon all about using techniques Cav learned for managing chronic pain to induce pain during sadistic kink play. SO FUN. Patreon supporters at the $3 level and above get access, so head over and listen. http://patreon.com/sexgetsreal
If you want to grab my latest workshop on ethical porn and how to use porn in your relationship or any of my other online courses and workshops, you can check that out at dawnserra.com/courses.
Follow Sex Gets Real on Twitter and Facebook. It's true. Oh! And Dawn is on Instagram.
In this episode, Cavanaugh and I talk about:
The 24-hour porn marathon Cavanaugh used to organize on campus and why it's so important to watch porn in public.
Sitting in arousal when we can't or don't need to act on it and how that resilience can help us navigate awkward situations, sex, and consent with more grace.
The surprising brilliance of ending a date early in order to masturbate. We discuss why this bold move is feminist, helps reaffirm mind-body communication, and also respects your date's boundaries.
What does Cavanaugh love about awkwardness, and what has been learned after listening to many other people talk about their awkwardness?
How to embrace your awkwardness, and why awkward doesn't have to be weird or wrong or bad.
The power that comes from acknowledging your insecurities or your awkward spaces and having that received well by a partner or friend. MORE AWKWARD ACKNOWLEDGEMENTS PLEASE.
Why it can be liberating to lead with what you are most afraid of, whether that is your fatness, your STI status, or your kinks.
Queer, trans, and brown has been the cornerstones of Cavanaugh's identity their whole life, but claiming the word fat was most difficult. We discuss why and what happened when "fat" became part of Cav's bio.
Using the Aziz Ansari news as a jumping off point, we explore the confusion around non-verbal consent, body language, and the responsibilities that we have to other human beings.
Cav gives permission to stop having underwhelming sex and have a slice of pizza instead.
How cuddling, soft, touch, masturbating together, or watching porn together can easily fit in the middle between the poles of  "not having sex" and "having sex."
What lightbulb moment in Cavanaugh's late twenties revolutionized their entire world and changed everything.
We field a listener question from Anonymous. They are a mostly straight 20 year old woman from a Christian family and are having big feelings about porn and buying their first vibrator.
A listener question from Roxie about not being able to reconcile her need for deep submission (as a sissy maid) and her desire for strict dominating. Cav has such lovely thoughts in this space.
About Cavanaugh Quick: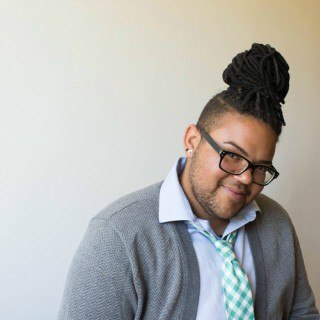 Cavanaugh Coury Quick is a queer, trans, polyamorous, AfroLatinx adventurer with a passion for critical thought and personal autonomy. He uses strengths-based techniques and reflective practice to assist folk of all ages in exploring the intersections of their personal and professional identities, beliefs, and behaviors. He also plays the tuba.
Stay in touch with Cavanaugh on his website, and also on Facebook, Instagram, and Twitter @Heyawkwardology.
Listen and subscribe to Sex Gets Real
Use the player at the top of this page.
Now available on Spotify. Search for "sex gets real".
Find the Sex Gets Real channel on IHeartRadio.
Hearing from you is the best
Call or text: 747-444-1840 (standard messaging rates apply)
Contact form: Click here (and it's anonymous)