Podcast: Play in new window | Download
Mona Darling is here to talk all things kinky. As a former pro Dominatrix with over 20 years of experience dominating folks in the kinkiest of ways, she has some fantastic advice on how to get started in kink, the skills most people overlook that actually make kink juicy and meaningful, and how to find your inner Domme if you're just getting started.
She has a new kinky activity book that's soon to be published and helps me field listener questions on how to do punishments and rewards in a 24/7 dynamic and also for newbie Daddy/Little Girl dynamics.
It's a fun, kink-tastic chat.
Plus, we have a yummy bonus chat exclusively for Patreon supporters. Not yet a supporter of the show? Head to Patreon.com/sexgetsreal to join the fun.
Psst – looking for more details on working with me? Check out my coaching details now!
Follow Sex Gets Real on Twitter and Facebook. It's true. Oh! And Dawn is on Instagram.
In this episode, Mona and I talk about:
Mona's weekly stream on O.School which is Kinky Conversations with Mistress Mona.
Why kink has this image of being super serious and how Mona started as a pro dominatrix, and what happened when she started approaching it as something goofy and silly. Kink is funny and ridiculous! Let's honor that.
Mona is creating a 200 page kinky activity book. She tells us all about it, and her approach to kink is right up my alley.
The most important thing when you're getting started in kink. It might surprise you because it's not skills with rope or whips or torture devices. It's something much more crucial and oft overlooked.
How Mona works with couples to find common ground in kink and sex when they seem to have very different interests.
Emotional needs and kink are where it's at. But that requires talking, communicating, being uncomfortable and awkward, which is something so many of us avoid.
Mona's single most important piece of advice for anyone curious in kink. It can be really difficult to do this, but it can make all the different in having those amazing experiences you dream of for yourself.
Pet play! Mona talks about pet play – what it is and why people do it. She loves it and offers such a sweet, tender look at it.
Mona gets very excited when we talk about orgasm control and orgasm games. Let's get mean and tease-y. The pro Domme comes out during this piece of the discussion, for sure.
The bullshit that is blue balls – just stop. It's so sexist and so misogynistic. Get over it dudes.
Chastity, edging, CBT – oh my!
How can someone try out being a dominant? I get a lot of emails from women whose partners have come out as submissive and want these women to be dominant, but they don't know how to get started. Mona has terrific advice.
Women need to find what interests them and what gets them excited, not only what a partner wants. Finding mutual space to place is so much easier when both people show up knowing what they want.
Sexual pleasure and how reciprocal it can be.
Why someone's sexual expectations can kill a scene and why Mona specifically does NOT fulfill those fantasies for everyone's benefit.
A listener question from someone who wants tips on how to be a good dominant outside of the bedroom. How can you be a good Domme outside the bedroom in the day-to-day of a 24/7 dynamic? Mona has thoughts!
Consequences and punishments from the brain of Mona Darling. Yum.
Fox's Lil Chu is brand new to a Daddy/Baby Girl dynamic and would love some tips on how to make it juicy especially around rewards and punishments.
About Mona Darling: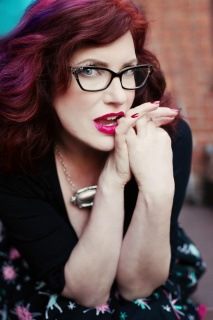 Mona Darling is a former professional dominatrix who now teaches women and couples to discover, embrace and communicate their kinks.
You can stay in touch with her on Facebook and Twitter @MsMonaDarling. If you're female-identified, you can also join her private Facebook community.
Listen and subscribe to Sex Gets Real
Use the player at the top of this page.
Now available on Spotify. Search for "sex gets real".
Find the Sex Gets Real channel on IHeartRadio.
Hearing from you is the best
Call or text: 747-444-1840 (standard messaging rates apply)
Contact form: Click here (and it's anonymous)