Podcast: Play in new window | Download
If you're looking for a last minute holiday gift or you want to start your 2018 with a bang, don't forget you can grab my online on-demand workshops now! From porn to anal, from games to relationship charters, you'll find all sorts of fun, inviting goodies to help you level up.
Want to hear my mini round-up of things I loved in 2017? Head to Patreon and support the show. You can hear exclusive content, including my own recap of the year when you support at any level.
On to this week's show!
JoEllen Notte is here to talk about her favorite things of 2017, as well as some of the tips and ideas she explored around sex, depression, and resentment.
We talk about her love affair with the Doxy wand vibrator, how she decides what makes her Favorite Things list, why we both hate the phrase "porn for women", and why depression isn't really the relationship killer that so many people think that it is.
We also answer a few listener questions. Is it weird to hate touching your genitals? Is there a wrong way to use a bullet vibe?
Tune in to find out!
Follow Sex Gets Real on Twitter and Facebook. It's true. Oh! And Dawn is on Instagram.
In this episode, JoEllen and I talk about:
JoEllen's round-up post on her favorite toys, companies, bloggers, books, and products of 2017.
What makes the Doxy wand so special? JoEllen has lots of feelings and has a love affair with this sex toy.
Why did it take 3 different versions of the wand vibrator Le Wand before JoEllen enjoyed it?
Why going for the most strong and most powerful toy isn't what works for everyone.
How does something get on JoEllen's favorite things list? It's so much more than sex toys now, and I love it.
SeaGrape is one of my favorite companies, and JoEllen had them on her 2016 list. Totally worth checking out if you want fun, fresh products.
You MUST check out SheVibe. Their art alone is worth a visit, but they also have super sexy things to buy, too.
The amazing work happening in sex and disability, and why it was so important to JoEllen to feature these voices in her 2017 round-up.
The desexualization of disabled bodies and why it's so important for more of us to be honest about the realities of our bodies and sex to help break down the performativity of sex that we see so much of these days.
"Porn for women" is NOT men doing the dishes or red soled designer shoes. Why are we still using this terrible phrase? Porn is porn. JoEllen's post about this is brilliant.
JoEllen as a theater director and feminist porn.
Ryan Gosling MIGHT give JoEllen an orgasm, but it's not porn when he says, 'Hey girl.'
Porn sex versus real sex.
People come on each other. It's not just in porn. Kate Kenfield suggested we call that "frosting" someone.
Depression in relationships and the resentment that builds. JoEllen has been thinking about this a lot, so we chat about why resentment is so corrosive.
We field a listener question from Sam who wants to know if she's weird because she loves sex but she hates touching her pussy and hates being penetrated. Is that wrong or weird? JoEllen and I discuss.
Don't let worrying about sex ruin the sex you enjoy. YES!
Megan wants to know if there's a wrong way to use a bullet vibe. JoEllen and I have both used bullets and talk about ways to use them.
About JoEllen Notte: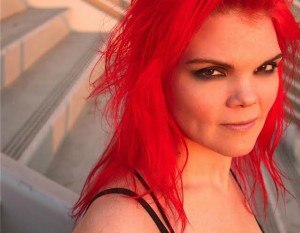 JoEllen is a writer, speaker, researcher and mental health advocate whose work explores the impact of depression on sex and relationships. Since 2012 she has written about sex, mental health, and how none of us are broken on her award-winning site 
The Redhead Bedhead
. JoEllen has spoken at Clark College, University of Chicago, University of Tennessee, Woodhull's Sexual Freedom Summit, the Guelph Sexuality Conference, and the Playground Conference and is currently writing her first book: "The Monster Under the Bed: Sex, Depression & The Conversations We Aren't Having".
Listen and subscribe to Sex Gets Real
Use the player at the top of this page.
Now available on Spotify. Search for "sex gets real".
Find the Sex Gets Real channel on IHeartRadio.
Hearing from you is the best
Call or text: 747-444-1840 (standard messaging rates apply)
Contact form: Click here (and it's anonymous)