Podcast: Play in new window | Download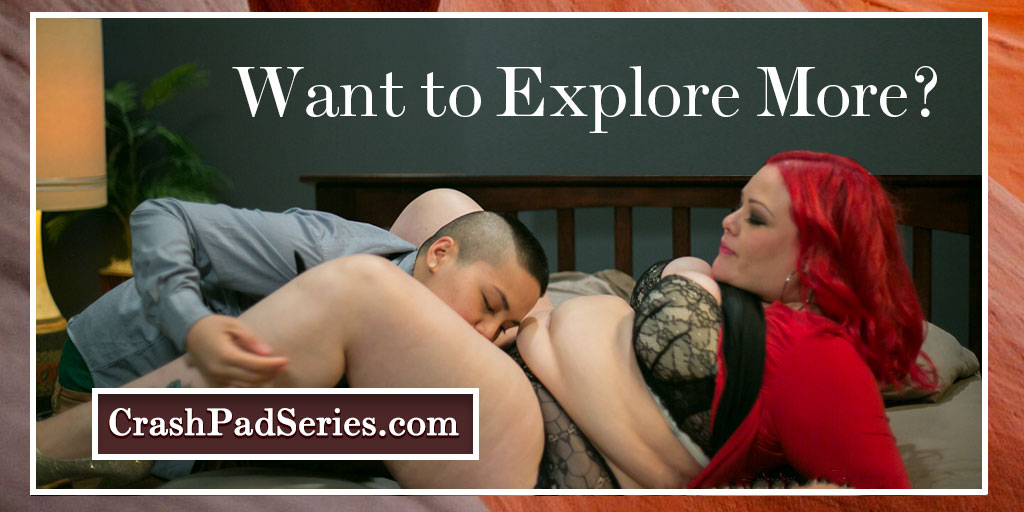 Did you hear last week? CrashPad Series is sponsoring the Explore More Summit: Bodies Edition. It's free and online, so sign-up today. We'll spend 5 days going super deep into body politics, self acceptance, fat activism, diet culture, weight stigma, and shedding body shame so we can center our pleasure.
To see the line-up for the summit and to enroll, pop over to exploremoresummit.com. And if you want to see a VERY HOT scene with April and Milcah, head to CrashPadSeries.com and join today.
This week, Sunny Megatron and Ken Melvoin-Berg are here! Which means it's basically an hour of me laughing hysterically.
We talk about their new sex podcast, American Sex, and some of the guests they've had – like the grapefruit lady and a guy whose fetish is death and sex.
Ken talks about how his relationship to kink has changed due to some health concerns, and Sunny talks about menopause and her libido.
We also answer listener questions about pubic hair and fisting. Ken even wows with the history of the merkin.
Looking for my new porn workshop? Pop over here.
Follow Sex Gets Real on Twitter and Facebook. It's true. Oh! And Dawn is on Instagram.
In this episode, Sunny, Ken, and I talk about:
Sunny & Ken's new podcast, American Sex. I was just recently on it, too, and we had a REALLY fantastic conversation. Check it out – episode 15.
Interviewing people from Joycelyn Elders of the Clinton administration to Auntie Angel of the grapefruit blowjob YouTube sensation.
Ken's desire to have Sunny try the grapefruit technique on him while wearing a unicorn mask.
Sunny and Ken's guest on their show who loves fantasizing about his own death and who is also into robot sex – color me intrigued.
Death fantasies, smothering fantasies, and how they show up.
Changing bodies and how you can maintain your kinky lifestyle and sexual activities even if you have a chance in health or ability, because Ken is currently navigating this space.
Why Ken asking his doctor about sex and his heart condition is just so funny.
Hand sex and why it's amazing. We all three agree that intercourse is not our favorite way to do sex, and we discuss why.
Kink and how to talk about your kinky fantasies and curiosities if you're just starting to think about it.
Why Sunny & Ken draw an older audience to their classes and shows. Sometimes age and experience really do matter.
What menopause has been like for Sunny and why we don't talk about menopause, aging, and sex nearly enough. Sunny's orgasms have been changing, as well as her libido.
Sunny's favorite joke about butts.
Listener Pro-Pubes wrote in with a question about how navigate the politics of pubic hair. So many people shame Pro Pubes about their pubic hair and even though they know pubic hair is a personal choice, it can feel terrible to be judged. What can they do? Ken, Sunny, and I weigh in.
Ken talks about what a merkin is and where it came from. You might be surprised.
FISTING! Siren wrote in asking about fisting and Ken and Sunny are the perfect guests to help me field this listener question. What's fisting like and what's it about?
About Ken Melvoin-Berg & Sunny Megatron: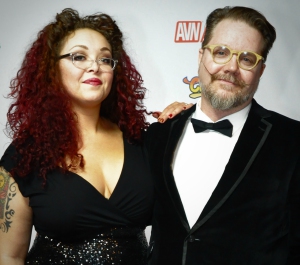 Superheroes of sex ed, married couple Ken Melvoin-Berg & Sunny Megatron are partners in every sense of the word. In addition to co-producing Showtime's "Sex with Sunny Megatron," they initially gained recognition writing and teaching about everyone's favorite subject, SEX. In their sell-out workshops, their unique brand of "edutainment" plus combined 25+ years of sexuality teaching experience puts students at ease. Each session seamlessly combines their humorous lecturing style, interactive exercises, and the latest sexuality research.
Sunny hosts their Showtime original television series, "Sex with Sunny Megatron," taking viewers on a journey into the world of adult play, as everyday people expose their deepest and most intimate fantasies. Always honest, funny, and sex-positive, the show provides an interesting, fresh twist on sexual exploration.
Their latest endeavor is their podcast called American Sex that features an eclectic mix of guests from all walks of life. American Sex podcast is available on most major podcasting platforms.
On a more personal note, this dynamic duo are married, parents, occasionally ethically non-monogamous, and lifestyle BDSM enthusiasts.
Want to stay in touch? Check out American Sex Podcast on Twitter and Facebook. You can also visit Sunny's website sunnymegatron.com. Follow Sunny on Facebook and Twitter and Ken on Twitter.
Photo credit: Mari Blue/ShootX
Listen and subscribe to Sex Gets Real
Use the player at the top of this page.
Now available on Spotify. Search for "sex gets real".
Find the Sex Gets Real channel on IHeartRadio.
Hearing from you is the best
Call or text: 747-444-1840 (standard messaging rates apply)
Contact form: Click here (and it's anonymous)