Podcast: Play in new window | Download
This week's show is sponsored by RXBar. You can grab 25% off your first order at rxbar.com/sgr with promo code SGR at checkout. You want to know what's in your lube, and now you can see what's in your snacks!
I am absolutely in love with this week's chat with Dalychia and Rafaella from Afrosexology.
We talk about their mission to bring sexual liberation and agency to the Black community. We explore pleasure and how to center it in our lives, why masturbation is a powerful tool to finding our power, and why it's so important to focus on pleasure in sex education, especially for the Black community and POC.
We also geek out about their spectacular Instagram account filled with beautiful bodies, genders, and erotic acts, all by Black artists.
It's rich, deep, and powerful. Ready to hear it? Let's go…
Follow Sex Gets Real on Twitter and Facebook. It's true. Oh! And Dawn is on Instagram.
In this episode, Dalychia, Rafaella, and I talk about:
The importance of sex education that is pleasure-based and about personal autonomy and power rather than all the scare tactics and negative focus that so much sex education actually is, especially in Black communities.
The policing of Black sexuality and Black bodies.
Why sex education is not about being an expert in sex (because no one can be an expert in your body or your experiences), and more about offering information and a space for everyone to be on the journey together.
Unpacking historical trauma, white supremacy, and finding pleasure in marginalized bodies.
The whiteness of sex positive communities and why Dalychia and Rafaella started Afrosexology.
Pleasure and how pleasure can be celibacy or public sex and it doesn't matter what your path to pleasure is as long as it's from a place of power and autonomy. This is especially truth for Black folks and POC who have been denied that agency for so many generations.
Tools for pleasure – Afrosexology loves engaging the senses. What are tastes you love? What are sounds you adore? What are smells that bring you joy?
Masturbation being the starting point of learning your pleasure, learning your body, and figuring out what you do and don't like. Seduce yourself!
Radical twerking and moving your body on your own terms. Dalychia says twerking is one of the tools she's used to find her agency and pleasure, similar to masturbation.
Afrosexology's AMAZING Instagram. CHECK IT OUT. Also, Black artists, Afrosexology is looking for you. Tag them online in your art!
The importance of seeing yourself in images and movements, and why Black art work is so important to Afrosexology's social media and work in general.
What Dalychia and Rafaella wish they could find out in the porn-verse. Because the racist tropes that are so common are tired and need to go away.
About Afrosexology: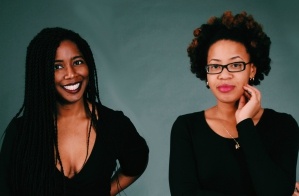 Afrosexology provides comprehensive pleasure based education centered around the narratives and liberation of Black people. We curate community discussions, educational materials, and sex positive events that cover topics such as: masturbation, self love, enhancing communication in relationships, radical twerking, oral sex, body agency, and much much more. We work with diverse groups including sexuality professionals, community organizations, individuals, parents, youth, spiritual communities, universities, and anyone else who wants to live a sex positive life.
Our mission is to educate, explore, and reclaim Black sexuality by promoting Black self empowerment through sexual liberation. We celebrated our second birthday this summer and are proud to have worked with over 1000 individuals. Afrosexology has created spaces where people feel free to express everything from shame to sexual desires, challenge stereotypes around sexual agency, and build an affirming community around shared experiences. We believe that there is so much to unpack and reclaim when it comes to our bodies and sexuality and we want people to live their most pleasurable lives.
Stay in touch with Afrosexology on Instagram, Twitter, and Facebook.
Listen and subscribe to Sex Gets Real
Use the player at the top of this page.
Now available on Spotify. Search for "sex gets real".
Find the Sex Gets Real channel on IHeartRadio.
Hearing from you is the best
Call or text: 747-444-1840 (standard messaging rates apply)
Contact form: Click here (and it's anonymous)