Podcast: Play in new window | Download
An updated Patreon you say? Why yes. Yes it is. Check out the sweet new rewards.
For the past few months, one of my favorite things on Instagram has been Maggie West's gorgeous nude photo series for Amber Rose's Slut Walk. The colors, the confidence, the variety of bodies. So, of course, I had to invite her on because her massive stained glass installation is available today in Los Angeles for Slut Walk.
We talk about art, nudity, her body fluids series which jump started her relationship with Christopher Zeischegg (who was on a few weeks ago).
Plus, I field a listener question all about being in love with your current girlfriend, but still being a little obsessed with an ex. Is it OK to check up on exes on Facebook, even if you've moved on?
Here we go!
Follow Sex Gets Real on Twitter and Facebook. It's true. Oh! And Dawn is on Instagram.
In this episode, Maggie and I talk about:
How Maggie got involved with Slut Walk for a photo project of women's bodies and women owning their sexuality.
Why diverse casting was so important to Maggie's project – including fat bodies, Black bodies, and trans bodies.
Every 98 seconds someone in the U.S. is sexually assaulted, so that's why Maggie named this new Slut Walk project, "98."
What it means to build consent into a photo project and helping models feel comfortable when the pictures are about their bodies and sexuality.
Nudity and how comfortable Maggie is in situations where she's photographing naked bodies and models who are in various states of undress.
Maggie's weirdest experience on her most recent project, which involved getting naked herself.
How do you walk that line between erotic and overtly sexual? Maggie has some thoughts that I adore.
Abstract lighting and art and how that changes the ways we see things like gender, naked bodies, and kissing.
Why capturing sex or filming porn is not at all interesting to Maggie.
Sex workers and the crappy stigma that blacklists them from other jobs. Maggie loves working with sex workers, but can never hire them for her mainstream work with larger companies.
What makes for a great nude or boudoir picture. After capturing so many naked bodies, Maggie says it really comes down to one thing.
Maggie's project, Fluids, that she did with Christopher Zeischegg and why she wanted to capture sexual fluids.
Maggie's tips for budding erotic photographers and film makers.
Resources from this episode
Check out Maggie's Instagram to see some of her amazing work for Slut Walk's 98.
About Maggie West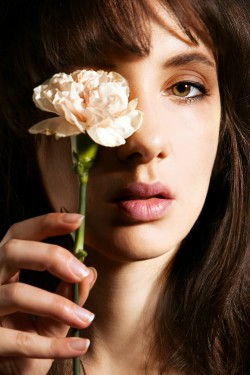 Maggie West is a Los Angeles based artist specializing in experimental lighting and installation techniques. Her surreal, colorful photographs have been featured in acclaimed publications and sources worldwide.
You can check out Maggie's work and stay in touch on Instagram and Twitter @maggiewest.
Listen and subscribe to Sex Gets Real
Use the player at the top of this page.
Now available on Spotify. Search for "sex gets real".
Find the Sex Gets Real channel on IHeartRadio.
Hearing from you is the best
Call or text: 747-444-1840 (standard messaging rates apply)
Contact form: Click here (and it's anonymous)