Podcast: Play in new window | Download
An updated Patreon you say? Why yes. Yes it is. Check out the sweet new rewards (that I can actually deliver).
What happens when two sex educators get together and geek out? You get this spanking new episode featuring Bex Caputo from the Dildorks podcast.
If ever there was an episode that covered all the things, it's this one. We talk about piss play and watersports. We giggle over fisting. We talk about kitten play and puppy play which leads us into talking power exchange and being a good submissive.
But it doesn't stop there. We also talk about the incredible awesomeness that is platonic kink – a thing that way too many people don't know is a thing. Then there's sex labs and practicing sexy stuff before you want it to BE sexy and the stunning advice Bex received when considering going on testosterone.
What if you don't have to wait to be miserable to want to change your body or your gender, your relationship or your job? What if you simply want to be happier? What if joy was enough of a reason?
We're going everywhere, so tune in and join the fun.
Follow Sex Gets Real on Twitter and Facebook. It's true. Oh! And Dawn is on Instagram.
In this episode, Bex and I talk about:
How we finally made it happen that Bex is on the show – it's because Bex had big feelings about an interview I recently had on the show.
Friends with benefits – is it good? Is it bad? Can it work for you? Can it also be harmful?
Why so much of what we see around sexuality is wrong. There is no one-size-fits-all or tricks that work for everyone.
Channel surfing and sex? Bex has an amazing analogy for sex education and advice and what they have to do with each other.
Woodhull's annual conference where Bex and I met a few years ago and what went down this year.
The sex education community and why it's not really a community. We talk about what communities can do to center victims and also hold abusers/folks who hurt others accountable. We can't ban every person who messes up or we end up without community.
A super hot excerpt from Bex's blog post about Woodhull. It includes piss play and water sports, and what it felt like for Bex to get peed on.
Why Bex can get into almost anything a partner is into because of their love of service and submission. It's all in how you frame it.
Bex shares some incredible advice from sex educator Mollena Williams about submission and taking care of yourself out of respect for your Dominant. Bex uses this mindset to help with self-care on bad mental health days. If Bex can't care for themselves on a bad day, then they can do it in service to their Sir.
What does it mean when Bex talks about their Sir and being "in service" to their Sir? Power exchange and protocol ahead! Including why Bex has power and when they have conversations outside of the dynamic.
Kitten play. Puppy play. And the mistaken assumptions many folks who are new to kink believe about what it means to be kinky. What if we embrace the absurdity and giggles and playful aspect of what it is we're doing?
Fisting! Bex just did it for the first time at Woodhull, so we gush about it. Hehehe.
Why sometimes it takes a few tries to discover if something works for us. A failure on the first try doesn't always mean it won't work for us in a different position or context down the road.
Sex labs. They're so important. Don't try something for the first time when you want to be super sexy. Set aside time to try the things, practice, find out what's hot or how to make it hot, so that when the stakes are higher you can actually feel confident and make it hot rather than fumbling and worrying about it.
Aftercare and the importance of debriefing after sex or scenes. People can be scared to check in with a partner – what if they loved something you hated or vice versa – but by not talking, all sorts of assumptions and misunderstandings can happen.
Having platonic kink exchanges and platonic kink relationships that aren't romantic or sexual is an amazing option that so many people don't realize or appreciate.
Normalizing sex and why more people need to see that sex and kink can be things that aren't super intense or charged.
Bex shares what it's like to go on testosterone and what non-binary means to them. It's super personal, and I love this bit. Their therapist told them that you don't need to be miserable to want to change it.
Resources from this episode
Read Bex's Woodhull wrap-up here.
About Bex Caputo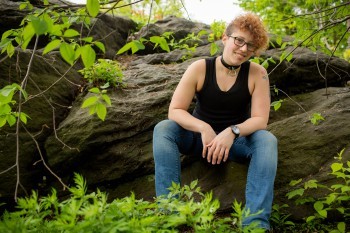 Bex Caputo is a sex educator, blogger, speaker, podcaster, and dildo peddler. They've been a proud and undeniable kinkster ever since they insisted on being served their meals in a dog bowl at the age of 8, (and even before that, probably). They're a Virgo, a Hufflepuff, a pup, and a nonbinary queerdo who grew up into the pop punk skater boy they had a crush on in high school.
Stay in touch with Bex on Instagram & Twitter @BexTalksSex.
Listen and subscribe to Sex Gets Real
Use the player at the top of this page.
Now available on Spotify. Search for "sex gets real".
Find the Sex Gets Real channel on IHeartRadio.
Hearing from you is the best
Call or text: 747-444-1840 (standard messaging rates apply)
Contact form: Click here (and it's anonymous)