Podcast: Play in new window | Download
What happens when you get a herpes diagnosis? And more importantly, what happens if you begin hiding that you have herpes?
Dr. Sheila Loanzon, an OBGYN who gives amazing PAP smears, is here to talk about her very personal story and new book, "Yes, I Have Herpes."
From advice on how to deal to details about what herpes really is, Dr. Sheila has practical advice as well as powerful personal stories about why she didn't tell her partners about her herpes for many years and what it was like to go back and tell them the truth.
We also talk about why it's so important to work on ourselves if we want healthy relationships, how to set yourself up for a successful PAP smear, tips for trauma survivors and trans folks to find a good doctor, why ALL vulvas are beautiful, and the strangest question Dr. Sheila has ever had from a patient.
You don't want to miss this.
Have you signed up for my Sex is a Social Skill group calls yet? It's a fun online group video chat every 2 weeks where we practice talking about sex, love, and life. Join in the fun and let's level up together. Learn more and enroll here. The next call is today, Sunday, September 17th at 4:00pm Pacific.
Oh! Don't forget: Patreons who support at the $20 level and above get FREE access to the group calls. Of course, you can support the show at any level from $1 and up and it means so much to me. Literally, every pledge sends me into an excited squeal of delight. patreon.com/sexgetsreal
Follow Sex Gets Real on Twitter and Facebook. It's true. Oh! And Dawn is on Instagram.
In this episode, Dr. Sheila and I talk about:
Why Dr. Sheila wanted to write about her journey in coming out about having herpes. Putting a face to a virus that so many people have but simultaneously vilify is critical to reducing stigma.
Herpes being basically a skin condition. We don't shame folks for colds or flus, and we know how to navigate acne and eczema, so why is herpes treated so differently? Only because of sex.
Her shift from hiding her herpes and feeling unlovable, which led to relationships with cheating and lying and stealing, to working on herself, finding self-acceptance, opening up about her herpes, and how that totally shifted her experience with love.
Scarcity in dating and love versus abundance in dating and love, and how knowing your value can totally shift the kinds of people who show up for you.
The actual screenshots of conversations Dr. Sheila had with past lovers when she finally disclosed her herpes status. It's an amazing part of her book that I so appreciated.
How you're still lovable and deserving even if you make terrible mistakes. The key is to own those mistakes, to do your best to move forward, and learn from it. Powerful lessons from Dr. Sheila's mistakes for all of us to learn from.
The pain of lying and hiding aspects of ourselves, even if they're parts of ourselves we're scared of or ashamed of. Self-forgiveness is so important.
Why Dr. Sheila's sex life improved after she started disclosing her herpes status with partners.
What to do if you receive a positive diagnosis for an STI, like herpes.
Vulva diversity and what an OBGYN has to say about the variety of ways vulvas and labia actually look.
What makes Dr. Sheila's PAP smears so great and tips for making your next PAP smear a little better.
How to empower yourself around medical care, PAP smears, and having agency as a trauma survivor or trans/NB person.
Resources from this episode
Interested in Dr. Sheila's book? Check it out here: "Yes, I Have Herpes"
About Dr. Sheila Loanzon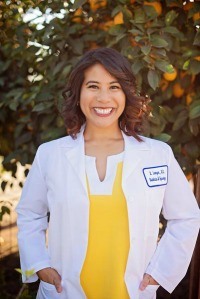 Dr. Sheila Loanzon, also known as the "Compassionate Gynecologist," is a board certified obstetrician and gynecologist with over 15 years of patient and personal experience with the diagnosis of herpes. Dr. Loanzon offers women specific tools to shift their perspective, gain insight, and move forward confidently and in self-love. Dr. Loanzon received her BA in biochemistry at Vassar College and completed medical school at the College of Osteopathic Medicine of the Pacific. She currently works at a large multispeciality practice in California. You can find her on Twitter @DrSheilaGyn.
Listen and subscribe to Sex Gets Real
Use the player at the top of this page.
Now available on Spotify. Search for "sex gets real".
Find the Sex Gets Real channel on IHeartRadio.
Hearing from you is the best
Call or text: 747-444-1840 (standard messaging rates apply)
Contact form: Click here (and it's anonymous)