Podcast: Play in new window | Download
How can you thrive as a sex worker, navigating the fact that you have no real safety while also performing erotic fantasies and sex at the same time? How can you care for yourself as clients bring in their pain, shame, and fear and expect you to heal them?
Lola Davina is here to help us answer those questions and more. Her new book, "Thriving in Sex Work," is like a big sister's guide to caring for yourself as a sex worker.
We talk about the unrealistic expectations clients often come in with, being financially responsible, setting boundaries and trusting your gut, creating rituals to celebrate small and big wins, and a whole lot more.
It's fascinating and practical. It's one of my favorite chats, and I think you'll hear why.
Have you signed up for my Sex is a Social Skill group calls yet? It's a fun online group video chat every 2 weeks where we practice talking about sex, love, and life. Join in the fun and let's level up together. Learn more and enroll here. The next call is today, Sunday, September 3rd at 4:00pm Pacific.
Oh! Don't forget: Patreons who support at the $20 level and above get FREE access to the group calls. Of course, you can support the show at any level from $1 and up and it means so much to me. Literally, every pledge sends me into an excited squeal of delight. patreon.com/sexgetsreal
Follow Sex Gets Real on Twitter and Facebook. It's true. Oh! And Dawn is on Instagram.
In this episode, Lola and I talk about:
Social media and online forums and how they've helped sex workers to connect, find support, and get their stories out. It's a new world for sex workers.
The isolation that sex workers can feel and the extreme emotional labor that sex workers deal with since we are all so confused and lost around our sexuality. Sex workers not only have to navigate their own needs and bodies, but also try to please and navigate other people's same confusion.
The weird space that sex workers occupy – both elevated and denigrated. Both human and yet expected to perform sexual perfection and pleasure at all times.
How sex workers, even sex workers doing legal sex work, are banned from access financial systems and support from so many banks and online systems like PayPal.
Sex workers are always at risk, they are always under threat, they never have full protection, and yet they're expected to be open, vulnerable, sexual, turned on, and other-worldly at the same time for clients. The tension is bizarre and unlike anything else.
Why the story and visibility of the sex industry is so skewed. Sex workers are 100% of our focus – they are the face and the representation, and yet it is the consumers of sex work who make up the majority of the folks engaging in sex work and we never examine them. They are nameless, faceless entities. The burden on sex workers is immense and unfair.
How sex workers are dehumanized by clients, and why clients really are struggling with their own desires and stories. The entire system is broken and toxic, and yet sex workers have to carry so much of the burden.
Love and the weird space it does or does not occupy in sex work.
Just because we're turned on or pay for sex work doesn't mean we get to behave badly or let our reptilian brain take over. We have a responsibility to behave in a way that recognizes we are dealing with another human being.
Sex work shouldn't be for therapy, for feeling loved and seen, for working our stuff out. Therapy is for that. We should be engaging with sex work from a place of abundance and joy and fun.
It's better to say, "I know it" than "I knew it." In other words, trust your gut always. Always.
How most of us stumble around without any clue of how to interact with our bodies and sexuality, and so in our confusion we expect someone outside of ourselves to make sense of the feelings happening inside of us. It's a toxic combination that sets us all up for failure.
Our unrealistic expectations around sex always being a peak experience. It's so challenging.
Why some fantasies don't need to be lived out, and why the pressure to live out some fantasies can be way too much pressure.
Boundary setting and what Lola learned over the years as a sex worker.
Sex workers set boundaries and make you take certain steps for a reason. It's thought out, it's intentional, it's important to them. Please respect that and don't try to skip steps or nudge boundaries. It's shitty and disrespectful.
The importance of celebrating milestones and treating yourself in sex work. Plus, why it's critical to have an exit plan – to write your own story of how you left sex work.
Resources from this episode
Grab Lola Davina's book, "Thriving in Sex Work: Heartfelt Advice for Staying Sane in the Sex Industry: A Self-Help Book for Sex Workers"
About Lola Davina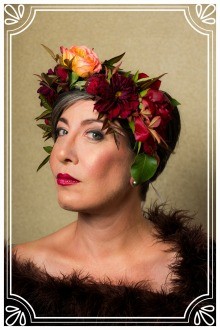 Lola Davina has spent more than 25 years in and around the sex industry, working as a stripper, dominatrix, porn actress, and escort over a fifteen-year period. She has earned an M.A. in Human Sexuality and an M.S. in Nonprofit Fundraising, and writes a self-care and wellness column for YNOTcam.com.
You can stay in touch with Lola at loladavina.com, on Facebook, and on Twitter @Lola_Davina.
Listen and subscribe to Sex Gets Real
Use the player at the top of this page.
Now available on Spotify. Search for "sex gets real".
Find the Sex Gets Real channel on IHeartRadio.
Hearing from you is the best
Call or text: 747-444-1840 (standard messaging rates apply)
Contact form: Click here (and it's anonymous)