Podcast: Play in new window | Download
Have you signed up for my Sex is a Social Skill group calls yet? It's a fun online group video chat every 2 weeks where we practice talking about sex, love, and life. Join in the fun and let's level up together. Learn more and enroll here. The next call is today, Sunday, August 6th at 4:00pm Pacific/7:00pm Eastern.
Plus, Patreons who support at the $20 level and above get FREE access to the group calls. Of course, you can support the show at any level from $1 and up and it means so much to me. Literally, every pledge sends me into an excited squeal of delight. patreon.com/sexgetsreal
Guess who's here this week?
Cooper S. Beckett from Life on the Swingset. It's been 2 years since he was on the show, way back when Dylan was still here, so it's wonderful to catch up and hear about his latest adventures.
We geek out about live sex demos and the Swingset takeover at Desire resort, which is coming up in a few months.
Plus, things get existential and deep as Cooper contemplates all of the ways his life has changed since he first started on his swinging adventures. We talk about the fragility of love, the lies we tell ourselves in relationship, his views on polyamory and labeling himself, and a lot more.
Then we dive into a listener email from David all about his inability to orgasm during sex. Cooper has personal experience with erectile issues and orgasm, so his advice is personal and practical.
Ready to hear it all? Me too.
Follow Sex Gets Real on Twitter and Facebook. It's true. Oh! And Dawn is on Instagram.
In this episode, Cooper and I talk about:
Swingset Desire Takeover for 2017. Tristan Taormino will be joining the Swingset crew for their 6th trip down to Desire. A week of pure hedonism. Plus, Cooper gets to teach an anal class with Tristan.
The power of in-person, hands-on classes in the world of sex education. It's amazing for people to see the actual negotiation and talking through the actual, lived experience.
How Cooper based the seven main characters of "Approaching the Swingularity" on himself and all of the things he's seen unfold at Desire each year.
Why Cooper's characters do bad things, make bad decisions, and fuck up. Also, why the movie High Fidelity inspired him so much in this same way.
The intensity of a week at something like Desire or swinging getaways.
How after 7 years of doing Life on the Swingset, Cooper owns how little he knows what he's doing. And I love that.
Why the traditional way people think about unicorns (a third to bring into a couple) is actually a horrible way to treat another human being. Cooper has changed significantly from his early days of a traditional swinger.
Happy accidents, being open to new experiences, and how it lead Cooper to everything he has now.
Why monogamy can protect you in some ways, but the terrifying reality is that anyone can leave at anytime for any reason. Cooper talks about why that's so amazing and how that uncertainty has actually inspired him in his non-monogamy.
Embracing the fragility of relationships and the fragility of life to drive us to cherish each other, to honor ourselves, to be brave. It gets very delicious and deep when we dive into this section.
Why Cooper doesn't think he can go back to monogamy even though non-monogamy is really hard.
You cannot change anyone. You can only change yourself. Cooper talks about the kind of person he is now and why it's so important that we all constantly try to be better.
Why sex is built up to be bigger and more important than it really is. Cooper talks about why sex shouldn't be on this pedestal. I can't stop cracking up. So so true.
After all the existential discussions, we dive into a listener email from a young cis guy who is dating a queer cis woman. They have creative, open sex, but he is having trouble orgasms during sex with her. What gives? Cooper has wonderful advice for guys who can't orgasm based on his own experience with erectile issues and orgasm issues. SERIOUSLY. Listen to this.
About Cooper Beckett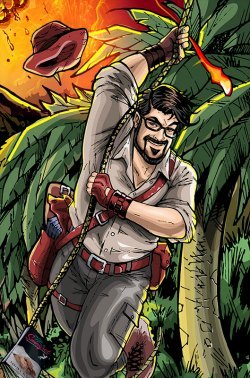 Cooper S. Beckett is the co-founder and host of Life on the Swingset: The Podcast since 2010, author of swinging & polyamory novels A Life Less Monogamous and Approaching The Swingularity, and memoir My Life on the Swingset: Adventures in Swinging & Polyamory. He teaches and speaks on swinging, polyamory, pegging, play parties, and coloring outside the boundaries of your sexuality. He is a graphic & web designer, photographer, and voice over artist, has been a guest expert on Dan Savage's Savage Lovecast, & is the announcer of Tristan Taormino's radio show Sex Out Loud. He is currently working on two instructional non-fiction books, one about beginning non-monogamy, and another about pegging.
Listen and subscribe to Sex Gets Real
Use the player at the top of this page.
Now available on Spotify. Search for "sex gets real".
Find the Sex Gets Real channel on IHeartRadio.
Hearing from you is the best
Call or text: 747-444-1840 (standard messaging rates apply)
Contact form: Click here (and it's anonymous)