Podcast: Play in new window | Download
Have you signed up for my Sex is a Social Skill group calls yet? It's a fun online group video chat every 2 weeks where we practice talking about sex, love, and life. Join in the fun and let's level up together. Learn more and enroll here. The next call is Friday, July 7th at 2:30pm Pacific/5:30pm Eastern.
Plus, Patreons who support at the $20 level and above get FREE access to the group calls.
Of course, you can support the show at any level from $1 and up and it means so much to me. Literally, every pledge sends me into an excited squeal of delight. patreon.com/sexgetsreal
I know tons of you are either kink lovers or kink curious, so I have a feeling you're going to enjoy this chat with rope expert and rope love Emily Bingham.
She recently published an erotic memoir all about her kinky, erotic bondage adventures. It is SUPER hot. So in this episode we talk about how she got into rope, some of the wild things she's done as a rope model and rope lover, and why she decided to write the book.
We also geek out about teledildonics and a new strap-on that lets the person wearing the strap-on experience sensation. YES.
There are some amazing episodes coming up, too, so stay tuned and enjoy.
Follow Sex Gets Real on Twitter and Facebook. It's true. Oh! And Dawn is on Instagram.
In this episode, Emily and I talk about:
How Emily got into rope. She was born wanting to be tied up, and found her way to rope and kink as an adult.
Being an art installation at a kink conference and a fucking machine. Oh, the things that happen at kink conferences.
Emily's book, Diary of a Rope Slut, and how it unfolded for her, why she wrote it, and what it means to her to put these stories out in the world.
Why it might look like everyone at kink events and dungeons look super confident, but it's not true. Emily talks about how it's less about getting confident and more about just doing it anyway.
Kink as meditation and healing. Emily has beautiful thoughts on what happens for her as she surrenders to a scene, and why it's also yummy how kink requires skills that keep you super present and plugged in with a partner.
Getting vacuum packed into a bag and what it's like to be fully sensory deprived.
What Emily wants people new to kink to know, especially people who are leaning towards submissive.
Consent and understanding boundaries. Also, why 50 Shades is once again failing newbie kinksters.
Rape and how Emily's rape got her talking about consent, writing the book, and adding more to her story beyond just that trauma.
Getting shunned and kicked out of the Portland rope scene because she speaks publicly about her rape and who raped her. Portland has a big consent problem.
Community growth and finding ways to be more consent and victim centric, especially as leaders.
Tips for newbies to rope and kink from Emily. Primarily that rope is super easy. If you can tie shoe laces, you can do sexy rope.
The sexiest and most rewarding sexual adventure for Emily considering all of the things she's done.
Netflix and rope – it should be a thing.
Wearable dicks that actually provide the wearer with sensation.
Resources discussed in this episode
Emily's book, "Diary of a Rope Slut" can be found here.
About Emily Bingham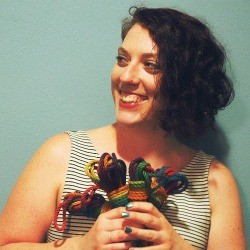 Emily Bingham is a writer, kinky educator and consent activist.  The only thing she loves more than words is rope.  Her stories have appeared in a number of erotica anthologies and most recently she published an erotic memoir, Diary of a Rope Slut. When she isn't writing she's teaching folks how to have safe and sexy rope adventures in the bedroom. Follow her at www.emilyerotica.com
Listen and subscribe to Sex Gets Real
Use the player at the top of this page.
Now available on Spotify. Search for "sex gets real".
Find the Sex Gets Real channel on IHeartRadio.
Hearing from you is the best
Call or text: 747-444-1840 (standard messaging rates apply)
Contact form: Click here (and it's anonymous)