Podcast: Play in new window | Download
Have you signed up for my Sex is a Social Skill group calls yet? It's a fun online group video chat every 2 weeks where we practice talking about sex, love, and life. Join in the fun and let's level up together. Learn more and enroll here. The next call is Friday, July 7th at 2:30pm Pacific/5:30pm Eastern.
Plus, Patreons who support at the $20 level and above get FREE access to the group calls.
Of course, you can support the show at any level from $1 and up and it means so much to me. Literally, every pledge sends me into an excited squeal of delight. patreon.com/sexgetsreal
As for this week's episode? Amarna Miller is here and we talk all about ethical porn and why it's different from feminist porn, why she feels so committed to doing mainstream pornography, polyamory, and Iceland.
Amarna also shares why she'd rather talk to a group of sexist men than to a group of like-minded feminists and what it's like to travel to places like Columbia and her home of Spain to talk about feminism and porn.
It's a fun, charming episode and I can't wait for you to hear it!
Follow Sex Gets Real on Twitter and Facebook. It's true. Oh! And Dawn is on Instagram.
In this episode, Amarna and I talk about:
How Amarna got started in porn. She was turned off by the responses she received when she first decided to go into sex work, and so she studied photography in college and then started her own production company at 19 years old.
Amarna's YouTube channel. Her video on ethical porn is fantastic. See it here.
Ethical porn – what it is, why it's important, and why it needs to come before feminist porn. It's about performers feeling valued and what happens behind the cameras.
How fair trade food is similar to ethical porn, and why porn performers need more of us to listen rather than victimize or blame.
What feminism means to Amarna and why it's such an important part of her life.
Why porn is a form of activism for Amarna and how it's changing the political conversation around women's bodies, while also recognizing that much of porn is still very sexist and problematic.
Amarna's awareness of how critical it is to confront sexism and problematic practices in mainstream porn from within the beast.
What makes for a great day on set when Amarna is shooting porn.
Sex and cannabis. Amarna is giving a talk in Spain about it this fall and there is still a huge stigma about cannabis in Spain, so she shares some thoughts on the topic.
The things Amarna still wants to explore. She feels like she's explored everything she's interested in sexually, and is now exploring intimacy, love, and polyamory.
Confronting jealousy and insecurity because feeling those things didn't make her happy.
The worst part of being a porn actress. It's probably not what you think.
Resources discussed in this episode
Erika Lust's films can all be found on EroticFilms.com where you can see Amarna, too!
About Amarna Miller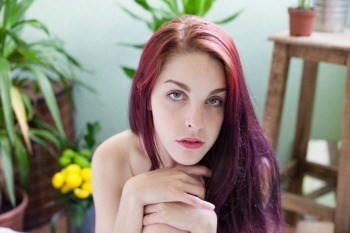 Amarna Miller is a 26 year old porn actress, pro-sex activist and writer from Spain. She has a Youtube channel where she talks about pornography, ecology and traveling, among others. Her first book was published two years ago and she is currently working on the second one. Faithful defender of feminism and polyamory, Amarna is graduated in Fine Arts and loves antiques, cats and everything related to the 60s. She considers herself an adrenaline junkie, obsessed with being outside of her comfort zone. She lives in her van and saves time to conquer the world.
You can stay in touch with Amarna on Instagram, Facebook, and Twitter @AmarnaMiller.
Listen and subscribe to Sex Gets Real
Use the player at the top of this page.
Now available on Spotify. Search for "sex gets real".
Find the Sex Gets Real channel on IHeartRadio.
Hearing from you is the best
Call or text: 747-444-1840 (standard messaging rates apply)
Contact form: Click here (and it's anonymous)