Podcast: Play in new window | Download
Guess what?
I'm now hosting group calls every other week where we practice skills, dive deep into improving our relationships, learn how to talk about sex, and so much more. Join in the fun and let's level up together. Learn more and enroll here.
Plus, Patreons who support at the $20 level and above get FREE access to the group calls. You can support the show at any level from $1 and up and it means so much to me. Literally, every pledge sends me into an excited squeal of delight. patreon.com/sexgetsreal
On to this week's show with Ruby Bouie Johnson, the Black Sex Geek herself.
This is an episode entirely about polyamory. It's raw and funny, and so so real. This is a no-holds-barred chat about the good, the super bad, and the beautiful parts of poly communities.
Ruby talks about how polyamory healed her in deeply personal and liberating ways, but only after expressing some mindblowing thoughts about the sexism, ageism, racism, and oppressive BS that's so common in poly communities around the country.
Plus, she shares her thoughts on the folks who are constantly on the hunt for that perfect unicorn and why it's so exhausting as a poly educator to have to field these (typically offensive) requests.
It's juicy. It's ugly. It's hysterical. And it will give anyone in or considering a polyamorous dynamic a lot to think about.
My biggest take away? That inclusion is NOT a policy or a mission statement. It is a deliverable and it is VISIBLE. You can say you're inclusive all you want but unless you see that reflected in the people who actually participate and attend – unless you see POC and fat bodies and a variety of abilities and disabilities, it's all lip service.
Follow Sex Gets Real on Twitter and Facebook. It's true. Oh! And Dawn is on Instagram.
In this episode, Ruby and I talk about:
Planning a big conference like PolyDallas Millennium, which happens in July of each year. It's a family friendly polyamory conference that Ruby created including a session called "Everything You Can Do Not To Fuck Your Kids Up."
The show House of Cards and why Ruby adores the poly dynamic that the characters have. We also touch on Sense8 and the poly dynamics there, too.
We geek out about loving and adoring Meg-John Barker and relationship anarchy.
Why Ruby strongly believes polyamory is not about polyfuckery or simply having sex with as many folks as you want. Polyamory is not all about sex. But it is about growing and expanding experiences and connections.
The danger of using the word 'healthy' when talking about relationships. We dive into why it's less about health and more about ethically exploring without pressuring someone. Also, it's BS that you need to be physically/mentally healthy – it's ableist and ridiculous.
What really fucks with Ruby in polyamory communities like prioritizing and valuing couples over solo poly folks and also people who believe they are smarter or more evolved than they really are simply because they're polyamorous. Poly communities also tend to be very homogenous – it's a lot of white folks.
Why it's misogynistic for men to come into polyamory expecting hot, single, bi women to want to join their marriage without leaving room for any other kind of relationship to blossom. Ruby gets so many messages from men trying to place an order for this mystical unicorn and it's gross.
Racism, ageism, and oppression inside of polyamorous communities and why being poly does not make you better or ore smarter or more evolved when you're still inside of all these systems of oppression.
Inclusivity is action, it is deliberate, and it is visible. It is not a policy or a mission and nothing else.
Why equality isn't necessarily the goal in polyamory – score keeping versus needs and negotiating.
How polyamory healed Ruby in deep, powerful ways. What her marriage is like and why she created PolyDallas Millennium. It's a beautiful story.
Resources discussed in this episode
The New York Times piece on non-monogamy that Ruby wrote about is here.
Ruby's response to the NYT piece, 'What the New York Times Neglected to See.'
About Ruby Bouie Johnson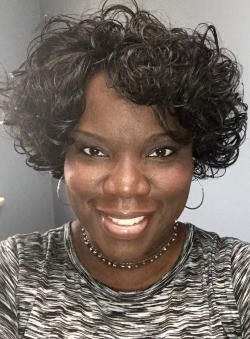 Ruby Bouie Johnson is a clinical social worker and sex therapist located in Plano, Texas. Ruby's primary client base are folks who are kinky, in consensual nonmonogamous relationships, queer, lesbian, bisexual, and gay, and sexual challenges. She works with individuals, couples, triads, quads, and polycules with power dynamics within their relationships. Ruby has published in various journals and in the African American Encyclopedia on Criminology. Ruby has presented at Kinky Kollege, Consent Summit, Association of Black Sexologist and Clinicians, and will present at the upcoming American Association of Sexologists, Educators, Counselors, and Therapists Conference. Ruby Johnson is a contributor for HuffPo and Black and Poly Magazine. Ruby Johnson is on faculty for the Kink Knowledgeable Program. Mrs. Johnson serves on the board for the National Coalition for Sexual Freedom.
You can stay in touch with Ruby at blacksexgeek.net and on Facebook and Twitter @blacksexgeek.
Ruby is also the CEO, Founder, and organizer for PolyDallas Millennium LLC. The 3rd Annual Symposium is July 14-16 in Dallas Texas. You can learn more and register at www.polydallasmillennium.com and also check out the conference's Facebook and Twitter @polydallas2015
Listen and subscribe to Sex Gets Real
Use the player at the top of this page.
Now available on Spotify. Search for "sex gets real".
Find the Sex Gets Real channel on IHeartRadio.
Hearing from you is the best
Call or text: 747-444-1840 (standard messaging rates apply)
Contact form: Click here (and it's anonymous)