Podcast: Play in new window | Download
This week's episode is brought to you by Talkspace. And listeners get $30 off their first month of therapy with coupon code SGR, so check it out and spread the word to support the show.
Patreon supporters! Dylan and I recorded a special episode just for you. Pop over to patreon.com/sexgetsreal and support at any level to get access when it's released in a few weeks.
Andre Shakti is BACK! She has a new project called I Am Poly and So Can You, and we go deep into non-monogamy and polyamory this week after geeking out over Erotic Film School.
When did Andre figure out she was non-monogamous, what advice does she wishes existed when she was a teenager, and what do you do if you cheated on your wife and now she wants to cheat on you?
Well, we talk about allllll of that and more this week. Andre has stellar advice for a couple who are wanting to try a threesome for the first time, and we also get a charming email from R who is in a loving triad but who needs more sex.
Poly pressure to have sex is real and Andre explores why sometimes it's OK to step off the sex train if everything else in your life feels great.
Don't forget to send in your sex confessions about May's theme of FOOD! I created a guidelines page for you.
Follow Sex Gets Real on Twitter and Facebook. It's true. Oh! And Dawn is on Instagram.
In this episode, Andre and I talk about:
Erotic Film School and Dawn getting a chance to film Andre in person in San Francisco a few weeks ago. Andre was such a pro and she talks about how the porn industry can be rife with folks who do not know what they're doing.
Andre's new project I Am Poly…And So Can You. It started as a column over at Harlot, but when they shut down, it was clear that Andre's polyamory advice column was the most visited part of their online magazine. So, Andre decided to keep it going.
Andre has been giving advice to family, friends, old elementary school teachers, and everyone in her life for so long, it made sense to turn it into work she could share with the world.
Why she doesn't only answer white, cis, guy questions who want to get multiple women in their bed and some of the problems with current polyamorous rhetoric and conversation.
Feeling broken as a young person who was non-monogamous and what Andre would have really loved to have had access to earlier in her life.
Andre really doesn't want to be put on a pedestal as a person who gives advice. She openly shares her mistakes, her flaws, and when she messes up because that's how she connects with all of us that vulnerability and mistakes are OK in relationships.
The types of questions Andre really dislikes getting, which is also so much of what I get on Sex Gets Real. TALK TO EACH OTHER.
Dawn confesses something new on the show, and Andre has some thoughts around jealousy and insecurity.
When does Andre most often find herself lacking in her non-monogamous relationships? And what triggers jealousy for so many of us?
Salt Lake Lovers wrote in asking for help on how to find a third for the first time. Andre is excited to talk about finding that elusive unicorn. Her advice for finding a woman third is REALLY good and avoids a lot of the creepy, predatory vibes that straight couples can give off. Yay threesomes.
William wrote in about his wife wanting to cheat on him after he cheated on her. Scorekeeping and tit-for-tat behavior in relationship is really toxic, so Andre and I are a little stumped around this multiple-cheating scenario of toxicity.
What can you do once trust is shattered in a relationship? Andre has a recommendation.
R has a question about his poly triad relationship – he loves his wife and he loves his girlfriend and both of them love and support him and each other. But he needs more sex and hates the thought of finding a fuck buddy. What can he do?
It's OK to try new things and make mistakes if you're in a relationship that's strong enough and healthy enough to have some resilience around little stumbles.
Resources mentioned in this episode
"I Love You, But I Don't Trust You: The Complete Guide to Restoring Trust in Your Relationship" by Mira Krishenbaum – Andre recommend this for working through trust issues in a relationship.
About Andre Shakti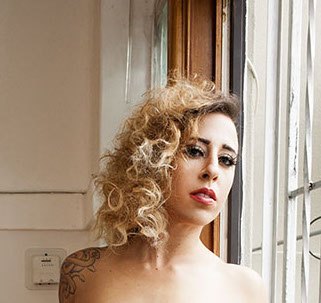 Andre Shakti is a journalist, educator, performer, activist, and professional slut living in the San Francisco Bay Area. She is devoted to normalizing alternative desires, de-stigmatizing sex workers and their clients, and not taking herself too seriously. Andre wrestles mediocre white men into submission and writes about sex work, queerness and non-monogamy for Cosmopolitan, Rewire, Thrillist, MEL, Vice, Autostraddle, and more. She can frequently be found marathoning Law & Order: SVU under a chaotic pile of partners and pitbulls, and yes, she knows how problematic that show is. Andre is the reigning "polyamory pundit" at her non-monogamy advice column, "I Am Poly & So Can You!", which you can visit – and submit questions to! – via IAmPoly.net. Visit her on Twitter @andreshakti, on FB as "Andre Shakti", and as a pleasure professional on the new inclusive educational platform O.School.
Listen and subscribe to Sex Gets Real
Use the player at the top of this page.
Now available on Spotify. Search for "sex gets real".
Find the Sex Gets Real channel on IHeartRadio.
Hearing from you is the best
Call or text: 747-444-1840 (standard messaging rates apply)
Contact form: Click here (and it's anonymous)