Podcast: Play in new window | Download
This episode is sponsored by HotelsByDay. Save 5% with code SGR5off.
Content note: talk of suicide.
I always love when I get to have nuanced conversations about topics like sex work, porn, consent, and polyamory. So, when Kitty Stryker said she'd come on the show, I knew the discussion would be a gritty one.
Kitty is currently working on an anthology book all about creating consent culture that comes out in 2017. We dig into what that looks like and how she's centering marginalized voices.
Then, we talk about what consent means within the context of capitalism and work. If you can't leave sex work because traditional employers won't hire former porn performers and you have to remain in sex work even if you're ready to leave, can you truly be consenting to the work? If we started focusing more on labor issues and capitalism, could we bridge the gap between anti-sex work feminists and pro-sex work feminists to find a common ground where nuance was encouraged?
Kitty also shares a personal story about suicide and how it ties into kink and poly communities. What does a community actually mean, anyway?
At the end of the hour, we field a question from a listener about polyamory and whether it's right for her.
Follow Sex Gets Real on Twitter and Facebook. It's true. Oh! And Dawn is on Instagram.
In this episode, Kitty Stryker and I talk about:
Her recent community-based activism, post-election. Specifically around queer culture and support culture that doesn't involve the police.
"Ask: A Discussion of Consent Culture" her new anthology on consent in gaming, LARP, parenting, and other spheres of our lives that we don't typically talk about consent. There's even an essay about the ethics of necrophilia.
Kitty's recent exit from sex work and porn performing. She has a complicated relationship with porn performing and consent, and offers some deep insight into just how much nuance there is to these labor issues around sex work.
How she wanted to leave porn back in 2012 and found that she couldn't get a job outside of sex work, and so she stayed in porn even though she didn't really want to. It's unfortunate that you can work in a legal industry and then not find other work because of stigma.
Capitalism and work are coercive by nature, and if anti-sex work feminists and pro-sex work feminists can embrace that, there might be a chance to meet in the middle and create more space for pluralistic experiences and truths about porn and sex work.
How consumers can change the porn industry to be anti-oppressive, anti-racist, and more inclusive of various bodies. Hint: it involves PAYING for your porn. It also means talking with porn producers about what you want to see.
Anti-porn churches who go to porn events to try and get porn performers to stop doing porn, but when you ask them for support around finding a new job or companies who will work with former sex workers, they have nothing to offer. It's all lip service.
Buffy the Vampire Slayer's abusive relationships (even though I live-breathe-die that show) and the emotionally unavailable men we see romanticized in pop culture. We also touch on Secretary, Twilight, 9 1/2 Weeks, and Fifty Shades of Grey.
Kitty's article on radical self-reliance killing people – which touches on poly and calls out communities who aren't helping folks who are suicidal and suffering because it's too inconvenient or scary. Read it here. Also, what not to say to folks who are suicidal.
Poly libertarianism and why Kitty really struggles with a lot of the poly advice to be islands where your emotions are your own and you aren't responsible for anyone else's feelings.
Lonely in Love wrote in with a question about polyamory. LiL isn't getting their needs met in their marriage, and they've been talking about poly. How do they consider this option? Kitty has some strong suggestions about whether that's the right path for them.
Resources from this episode
Kitty's article "Porn Didn't Ruin Your Sex Life. Sorry."
"So Someone You Love is Suicidal" by Kitty can be read here, too.
About Kitty Stryker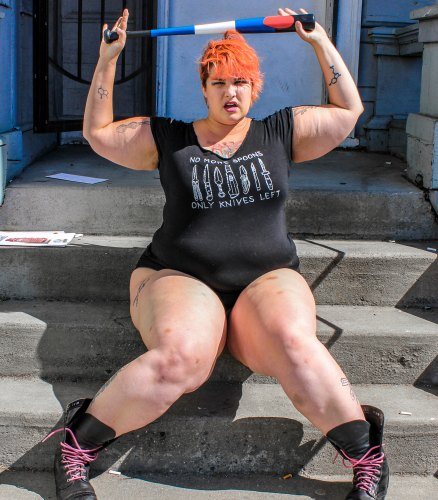 Kitty Stryker is a writer, activist, and authority on developing a consent culture in alternative communities. She was the founder of ConsentCulture.com, a website that ran for 4 years as a hub for LGBT/kinky/poly folks looking for a sex critical approach to relationships and which will be relaunched on 2017. Kitty also cofounded the artsy sexy party Kinky Salon London, as well as creating the award winning Ladies High Tea and Pornography Society, the SF based kink party Whippersnappers, and acting as head of cosplay for queer gaming convention GaymerX.
Now working on "Ask: A Discussion of Consent Culture", an anthology through Thorntree Press coming out in 2017, Kitty tours internationally speaking at universities and conferences about feminism, sex work, body positivity, queer politics, and more. She lives in Oakland, California with her fiancee and two cats, Foucault and Nietzsche.
You can find Kitty at kittystryker.com, on Twitter @kittystryker, and on Facebook.
Listen and subscribe to Sex Gets Real
Use the player at the top of this page.
Now available on Spotify. Search for "sex gets real".
Find the Sex Gets Real channel on IHeartRadio.
Hearing from you is the best
Call or text: 747-444-1840 (standard messaging rates apply)
Contact form: Click here (and it's anonymous)