Podcast: Play in new window | Download
This episode is sponsored by HotelsByDay. Save 5% with code SGR5off.
Alex was the first person to ever share an Oh Joy Sex Toy comic with me. I was immediately enamored. Erika Moen's weekly sex education comic is full of so many wonderful topics, reviews, and done with such an approachable spirit. I've shared TONS of her stuff on social media because who doesn't love a comic about watersports featuring cute wolves or a fat-bodied review of the latest vibrator?
In this episode, Erika and I talk about how she got started as an artistic sex educator, and roll around in some of her favorite issues and guest artists.
We talk about visiting a porn set, why reviewing sex toys is so damn difficult, how sometimes you have to sacrifice nuance to get a conversation started, and pole dancing. Plus, how difficult is it to draw new kinds of bodies and shapes when you want to start creating something more inclusive? Erika shares all that and more.
Follow Sex Gets Real on Twitter and Facebook. It's true. Oh! And Dawn is on Instagram.
In this episode, Erika Moen and I talk about:
Erika got her start as a sex educator as a lesbian in the 90's when she found loads of people kept asking really inappropriate questions about her sex life. They genuinely didn't understand how lesbian sex worked, so she decided to do something about it.
Using art and comics to make sex ed something approachable and non-threatening. People can't learn when they're being yelled at, so what if they're being entertained, instead?
The Liberator Chaise Lounger that Erika recently reviewed on Oh Joy Sex Toy. I want one!
 Reviewing sex toys and how different every single person is in what works for them. It's tricky to make sex toy recommendations because if someone buys something expensive based on your enjoyment of it, but hate it, they're stuck with it.
Check out Erika's How to Eat Pussy comic. It's one of her favorites. Also, Porn Set Visit when they watched CrashPad film porn and Consent top the list, too.
Oh Joy Sex Toy's purpose is to touch on the topics Erika and team want to discuss, but each comic only has about 300 words. A lot of people have criticized Erika for not having more nuanced conversation about things like consent. She's hoping it is a starter to a much larger conversation.
Dawn's jealousy of their visit to the CrashPad set and watching them create and film porn. Erika said it was powerful and transformative.
Erika talks about all of the guest artists she's had on OJST, and names a few favorites. I was especially moved by S.W. Searle's on fat bodies and body positivity, called A Work In Progress.
What's next for Oh Joy Sex Toy? Erika goes over her wish list of what her and Matt are cooking up, including some personal journeys they want to fold into the comic, too.
How, as sex educators, we evolve, change, and grow, which a lot of people don't leave room for when they follow people like Dan Savage. Our opinions and experiences from 5 years ago are often not the same now, so modeling that change is a huge part of being a sex educator.
As an artist, Erika had to learn how to draw bodies that were different from her own. She had to unpack her own fat phobia of larger bodies and all the different ways that bodies look and move to ensure Oh Joy Sex Toy included a super diverse range of bodies. It's made her confront her prejudices.
Oh Joy Sex Toy would not exist without Dan Savage. He inspired Erika deeply as a sex educator.
Pole dancing and sex work. Erika got started pole dancing because of her love of strippers.
Resources from this episode
StripSearch, the reality TV show Erika was on, can be found here.
The water sports comic on Oh Joy Sex Toy that Dawn loved.
About Erika Moen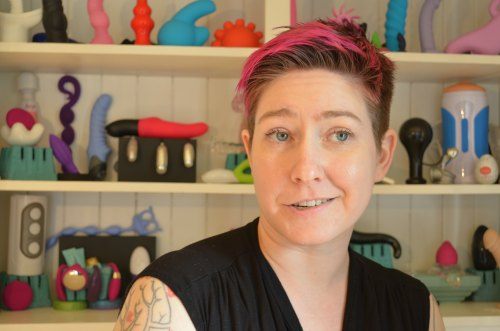 Erika Moen is the co-writer and artist behind the creation of the strips.
She has been doing webcomics since she was 15 years old and has been a full-time, professional cartoonist and comic book creator at Helioscope Studio in Portland, OR since she was 25. She is a cisgender, white, able-bodied, queer lady who was born June, 1983 and has been happily married to Matthew Nolan since October 2008.
Her work has been published by Dark Horse Comics, Image Comics, Villard, BOOM! Studios, Penny Arcade and Scholastic, among others.
You can check out all her amazingness at OhJoySexToy.com, on Twitter @erikamoen, on Instagram, and support all her work at Patreon.
Listen and subscribe to Sex Gets Real
Use the player at the top of this page.
Now available on Spotify. Search for "sex gets real".
Find the Sex Gets Real channel on IHeartRadio.
Hearing from you is the best
Call or text: 747-444-1840 (standard messaging rates apply)
Contact form: Click here (and it's anonymous)