Podcast: Play in new window | Download
Sign-up for my live, online anal 101 class! It's October 26th and going to be amazing fun. Learn more and register now.
When I think about my sex educator heroes, Allison Moon is one of the folks who has had a tremendous impact on the way I approach and talk about sexuality and sex. Her own journey through lesbian identity to queer identity is very reminiscent of my own, and her approachable and matter-of-fact methods of talking about sex always inspire.
So, when a pain-filled email came in from a listener who identified herself as A talking about her journey from religious conservative who married young to a sex positive, liberal, queer feminist who feels like her queer identity is suffocating inside a monogamous marriage to a cis hetero man, I knew Allison was the expert I needed to help field this rich discussion.
Her perspective on wanting to dive into our newly discovered identities and ways to make space for a partner who isn't as far along on the journey is absolutely spectacular.
We also talk about tandem threesomes, Hollywood story lines and how lazy the drama is that they cook up, vulvas and masturbation, body awareness, and a ton more.
This chat filled me with joy, so I hope you enjoy it as much as I did.
Follow Sex Gets Real on Twitter and Facebook. It's true. Oh! And Dawn is on Instagram.
In this episode, Allison Moon and I talk about:
Allison's recent tweet about tandem threesomes. Dawn needs to know more. What is a tandem threesome? We find out. Plus, Allison shares what she recently did with all of the sex toys she receives as a sex educator.
How the feedback and input from funders of the crowdfunding aspect of her book, Girl Sex 101, shaped what she included around transinclusivity. The representations for all kinds of women's bodies is the first of its kind.
Allison's new project for expanding on Girl Sex 101 will be single topic, smaller books. She's working on one for casual sex and hook-ups, and a few others in an easy to digest format.
A TV pilot Allison is working on based on her Bad Dyke stories. It's a show about ethical non-monogamy, ethical sluttery, and real drama versus the shitty people doing shitty things we usually see on Hollywood TV.
How lazy television plots are and how desperately we need more queer representation and honest sexuality because it's missing in a real way in the media.
Allison's workshop How to Drive a Vulva and what she wants everyone to know. We talk about the internal clitoral structure, pressure as pleasure on a vulva, and the power of hands (Dawn's favorite thing).
Masturbation is something we often learn to do quickly and quietly as kids, so when we get to partnered sex, it's OK and normal to have to re-learn ways to touch your body and receive touch and pleasure from the hands of another person.
Bodies and sex being weird and funny and silly. Sexy doesn't have to mean checking your sense of humor at the door. If you embrace silliness, what might you learn about yourself and your body?
A listener email from a person who was raised very religious and married young, but she has transformed into a sex positive, queer feminist. Her husband has done his best to stay open to her huge life changes, but he isn't OK with the thought of an open marriage and this listener is feeling cut off from her queerness. How can she express her queer self inside of a monogamous marriage with a cis man? Allison has some delicious suggestions that you won't want to miss.
If you've recently discovered you're queer or kinky, it can be tempting to go full tilt into sexual exploration, but if that's not an option because of your circumstances, it can be a powerful and validating thing to simply find community and friends who can offer social support – which is something we overlook.
Sexuality is not a fixed thing. The words we have to describe sexuality are fallible and weak compared to the multiplicity of the human experience. Allison talking about her choice to pursue happiness and love despite that person seeming to run contradictory to her lesbian/queer identity is so heart warming.
If you're in a lesbian relationship and your partner transitions, are you still a lesbian? Your identity hasn't changed but the context you're in has. It's fascinating to consider the possibilities and the changes we all go through.
Allison's method for eating out her cis male partner so that it feels super queer and hot for both of them. I LOVE THIS.
About Allison Moon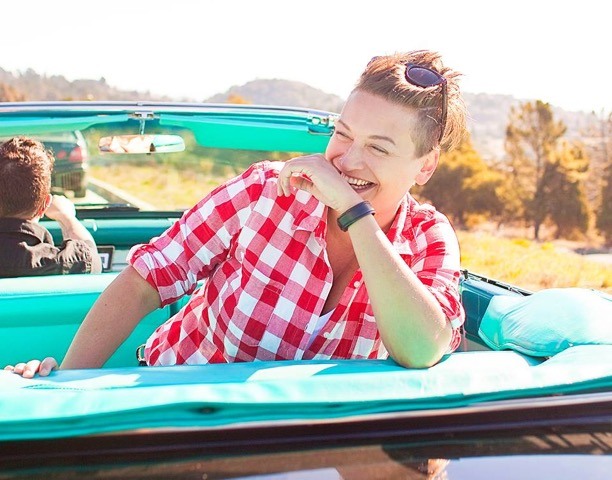 Allison Moon is the author of the award winning, critically-acclaimed sex-ed book, Girl Sex 101, the Tales of the Pack series of novels about lesbian werewolves, and the sexual memoir, Bad Dyke. As a sex educator, Allison has presented her workshops to thousands of people around the US and Canada.
You can find Allison at www.GirlSex101.com or on Twitter @HeyAllieMoon.
Listen and subscribe to Sex Gets Real
Use the player at the top of this page.
Now available on Spotify. Search for "sex gets real".
Find the Sex Gets Real channel on IHeartRadio.
Hearing from you is the best
Call or text: 747-444-1840 (standard messaging rates apply)
Contact form: Click here (and it's anonymous)