Podcast: Play in new window | Download
Sign-up for my live, online anal 101 class! It's October 26th and going to be amazing fun. Learn more and register now.
I'm sure you heard on last week's show, but I'm reminding you again. I want YOUR voice as part of the new podcast intro. All you have you to do is call 747-444-1840 and say "You're listening to Sex Gets Real with Dawn Serra." BOOM!
This week is a fun chat with The Butters All Natural Lube creator and sex educator Jerome Stuart Nichols. We talk about lube and creating your own sex stuff, being a sex educator, STIs, and we answer two listeners questions.
One of those questions absolutely broke my heart, so I was very thrilled Jerome could join me to help field it – how can a Black man with a smaller penis ever hope to find confidence and a lover who is pleased with is body? The racial stereotypes about penis size and the masculinity myths we are all drowning in can create a toxic situation for so many of us.
Follow Sex Gets Real on Twitter and Facebook. It's true. Oh! And Dawn is on Instagram.
In this episode, Jerome Stuart Nichols and Dawn talk about:
Jerome's new lube, The Butters, is what he created after being disappointed with all of the lubes he has reviewed over his 7 years as a sex educator. Plus, the cost of some lubes makes them too pricey for some folks. Dawn sampled it on number occasions and weighs in with her experience.
The joys of internal condoms and why they're amazing. Jerome is a huge fan, which gets Dawn ridiculously excited.
How difficult it is to advertise as a sex educator or sex manufacturer because sex isn't allowed on social media advertising or Google.
The STI booklets that Jerome created for real people in real situations on how to talk about and navigate STI conversations. He is re-releasing them with updated information for things like Zika in the next few months, but you can see the original version from 2013 here.
Jerome's experience with chlamydia earlier this year and how all of us are swimming in the shame around STIs. Jerome jokes about how chlamydia was way easier than having the flu. STIs are so common and Jerome is on a mission to create social ambivalence around STIs the same way we feel about the common cold or the flu.
PrEP, the HIV prevention pill, and Jerome's experience with his doctor's ignorance. Unfortunately, we need to be more educated about sexual health as patients, because our doctors are not getting the information that they need in order to serve us.
Jerome's directory of sexuality experts of color and how many amazing educators, therapists, and sex workers there are who are POC. To check out his directory, visit LTASex.com.
A listener question about pubic hair removal on a cis male – where can he go to get waxed, since most spas and salons only do these services on vulvas? He is constantly getting razor burn and ingrown hairs, and he really wants to be hairless. Jerome's suggestion is fantastic, and it never would have occurred to Dawn.
Prone to ingrown hairs when you shave? Jerome recommends the single-blade Bevel razor which is perfect for combatting that.
A single black man with a smaller penis needs help – he has so much shame about his smaller penis, especially as a Black man when the cultural stories are Black men have huge penises. He can't talk to women and has been terrified of sharing his body. Jerome offers some advice.
No one gets to be disappointed in your body – whether you're fat, thin, small dick, big dick, or whatever. We all deserve people who appreciate us for who we are and the kind of body we bring to the table, and if someone doesn't appreciate your body, then fuck them. They don't deserve access to you.
About Jerome Stuart Nichols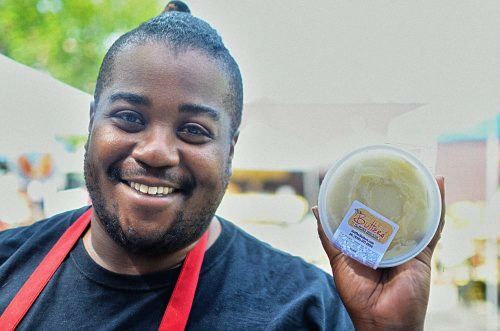 Jerome Stuart Nichols is the creator of
LTASEX.com
and The Butters All-Natural Lubricant, among other things. His overarching goal is to help people live better, sex better, and love better. He enjoys a wide variety of geekery, creative ventures, and bending a willing submissive boy over his knee.
Listen and subscribe to Sex Gets Real
Use the player at the top of this page.
Now available on Spotify. Search for "sex gets real".
Find the Sex Gets Real channel on IHeartRadio.
Hearing from you is the best
Call or text: 747-444-1840 (standard messaging rates apply)
Contact form: Click here (and it's anonymous)