Podcast: Play in new window | Download
Erotica has played a significant role in my own sexual exploration and development – from teaching me about my own desires and fantasies to understanding the depth of other people's sexual landscapes. It's a yummy and delicious space to play in.
That's why I'm so excited to be joined by Rachel Kramer Bussel this week, who has edited over 60 erotica books and who currently has 2 open calls for submissions. So listeners – if you are at all interested in getting some erotica published, take a look at the links down below.
Rachel talks about what makes for good erotica, how we can use erotica to not only arouse but to heal, ways to make erotica political and transformative, and all the ways she wants to challenge the narrative around conventional beauty in the stories she writes. Where are the fat men and the bald men and the short men and the body diversity?
We even talk about necrophilia, which may be a first for the show.
Plus, Rachel teases us with a few minutes from an erotic story called "Starstruck" by Lazuli Jones, so settle in and get ready to get excited about all things erotica.
Follow Sex Gets Real on Twitter and Facebook. It's true. Oh! And Dawn is on Instagram.
In this episode, Rachel Kramer Bussel and Dawn talk about:
How erotica keeps pulling Rachel back, even after editing 60 books and reading thousands of stories. Knowing there is no end to the art of the possible when it comes to sex is exciting.
The power of writing sex as a way to get inside the head of a character. No other medium allows us to see into a person's motivation and arousal in quite the same way. It has a beautiful voyeuristic invitation that expands our understanding of sex.
Using erotica to explore the taboo and to explore our darker and scarier sides in a safe way.
Erotica's potential to also be a force for the political, specifically Chuck Tingle's erotica eBooks that use current events and the news to inspire funny, sexy stories. Rachel mentions "Pounded by the Pound" which can be found on Amazon.
What makes for a really great, solid piece of erotica.
The many reasons people read and write erotica. Some people use it to get aroused and to masturbate or share with a partner. Others read it because some of the stories change you or move you in surprising or challenging ways. It's a way to explore your edges and also other people's experiences of sex.
Rachel's interest in writing about people of size, especially larger/fat men. While there is a big, handsome man trope, Rachel sees a big gap in our culture around who we find desirable. Erotica is a way to start changing that dialog that there is only one kind of body that's sexy. Rachel wants to see stories eroticizing bodies who look like George Castanza or who are short or who are bald in the way that isn't glamourized by Hollywood.
Using erotica to heal wounds, to process the troubling and painful things that are going on in our lives. She talks about a beautiful story featuring a trans character and the problems they're facing.
What kinds of erotica Rachel would love to see people create. Plus, she has two open calls for submissions, so if you're interested in getting your story or idea published, now's your change!
A little tease that Rachel reads from a fun, geeky story called "Starstruck" by Lazuli Jones.
Resources discussed in this episode
Rachel's "I Want To Hold Your Hand" (about a woman who wishes her husband hadn't lost weight)
Grab your copy of Best Women's Erotica of the Year, Volume 1
Best Women's Erotica of the Year, Volume 3 call for submissions
The Big Book of Submission, Volume 2 call for submission
Rachel's LitReactor Class starting in February
In or near L.A.? Check out Rachel's Erotica Writing 101 Workshop in January.
About Rachel Kramer Bussel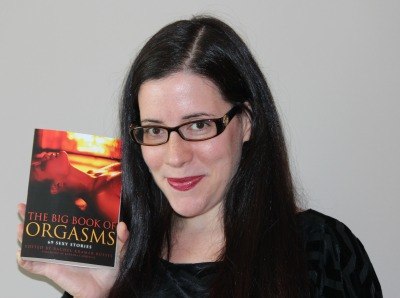 Rachel Kramer Bussel (rachelkramerbussel.com) writes essays and articles about sex, dating, books, pop culture, feminism and body image for publications including The New York Times, The Washington Post, Elle.com and Salon. She's edited over 60 anthologies, including Come Again: Sex Toy Erotica, The Big Book of Orgasms, Cheeky Spanking Stories, Dirty Dates and is Best Women's Erotica of the Year series editor. She teaches erotica writing workshops across the country at colleges, conferences and sex toy stores as well as online via LitReactor.com.
Find out more at her blog Lusty Lady or EroticaWriting101.com and follow her @raquelita on Twitter.
Listen and subscribe to Sex Gets Real
Use the player at the top of this page.
Now available on Spotify. Search for "sex gets real".
Find the Sex Gets Real channel on IHeartRadio.
Hearing from you is the best
Call or text: 747-444-1840 (standard messaging rates apply)
Contact form: Click here (and it's anonymous)