Podcast: Play in new window | Download
In the DC area? I'm teaching kink, anal sex, thriving relationships, blowjobs, and more in October and November. Check out the details at Secret Pleasures Boutique by popping over to their workshop page. 
How does traditional consent education fail us? What do you do if you're in a new open relationship and it just isn't working for you? Can someone really orgasm without having their genitals touched?
This week, Yana Tallon-Hicks joins the show and we roll around in all those questions and more (don't miss Dawn's story of aiming a penis). It's a fun, laughter-filled talk and it's clear why TEDx invited Yana to do a talk on sex education recently.
The listener questions this week are particularly delicious, especially the final question from Lady Lilly – both Yana and I are near tears as we listen to the pain and heartbreak of her question.
Follow Sex Gets Real on Twitter and Facebook. It's true. Oh! And Dawn is on Instagram.
In this episode, Yana and Dawn talk about:
How current sex education models are like the "don't do drugs" D.A.R.E. programs which is focused on saying no to sex instead of saying yes to pleasure and your needs.
Yana's recent TEDx talk in Vienna about porn brain being the new sex educator. Yana tells us all about the invitation and what her talk was about. Check out the resource section below for a link to the talk.
Porn and the way the scenes unfold without any talking or negotiation and how that influences our expectations around sex.
Consent being highly gendered when it's taught on college campuses – it's about telling men where they can't go and women that they need to be protected.
Pleasure-based consent and how that helps level the playing field to invite conversation about where you can go, not where you can't.
Even as a "sexpert" never assuming you know anything about your partner's experience. It's an important point because even for folks who teach sex for a living, there has to be a constant conversation about what folks want and feel and desire. So, that means everyone needs to be checking in all the time.
Penises are not as easy as the cultural narrative would have us believe – there is just as much nuance to pleasuring a penis as there is a vulva.
A listener question about his wife's ability to orgasm without any physical touch. Is it real? Is this possible? We get super excited talking about how fun it would be to have someone who could have these non-touch orgasms and be in a power dynamic with them.
Open relationships in response to a listener question about being in a long-distance relationship and navigating open relationship dynamics. She isn't super comfortable with it, and we dig into the importance of not keeping score or making a lot of rules around feelings.
Meaningless sex, why it doesn't work for everyone, and why THAT'S OK.
The importance of learning to trust someone in a space that is super scary and vulnerable. It takes practice, and feeling scared shitless is part of taking risks.
LadyLilly's email about her Daddy Dom/little girl dynamic and her broken heart. Her DD has cheated multiple times and she doesn't know what to do. Yana and I talk about how especially hard that can be inside a power dynamic relationship like Daddy/little girl.
Resources discussed in this episode
Yana's resource guide to open relationships is here. Password: compersionimmersion
Watch Yana's TEDx talk.
Barbara Carrellas' book "Ecstasy is Necessary"
A video of Barbara Carrellas having a brain-gasm (or thinking her way to an orgasm) in an MRI machine
About Yana Tallon-Hicks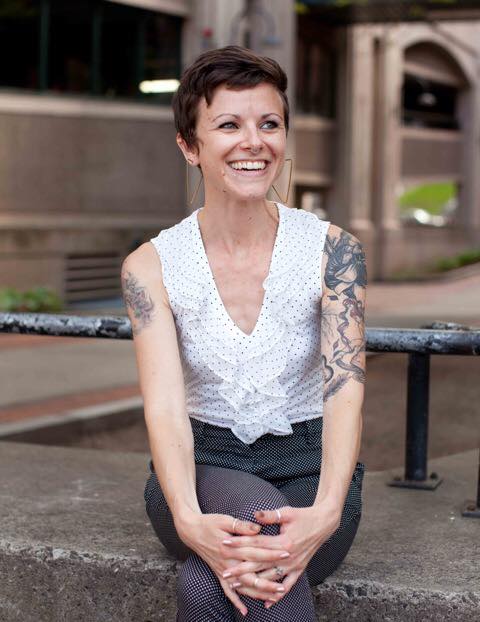 Yana Tallon-Hicks is a consent, sex & sexuality writer and educator living in Northampton, MA. Her work centers around the belief that pleasure-positive & consent-based sex education can positively impact our lives and the world (like really though).
Yana's workshops work to create a welcoming & comfortable space for all to explore crucial aspects of our sexual selves such as pleasure, communication, consent & the body and are taught at colleges, high schools, and sex toy shops all over New England.
Read more about Yana & her work here, where you can also read her sex advice column, follow her on Instagram & Twitter, and watch her TEDxTalk: Is the Porn Brain Our New Sex Educator? during which she talks about watching porn with her husband, how we learn about sexual pleasure, and what that does for our concept of consent.
Listen and subscribe to Sex Gets Real
Use the player at the top of this page.
Now available on Spotify. Search for "sex gets real".
Find the Sex Gets Real channel on IHeartRadio.
Hearing from you is the best
Call or text: 747-444-1840 (standard messaging rates apply)
Contact form: Click here (and it's anonymous)