Podcast: Play in new window | Download
A listener question sent me on a quest to find some folks who could share their coming out stories, specifically cis men, and that quest led me to TT Baum. Several colleagues had the most amazing things to say about him, and when we finally connected, I adored his calm energy and beautiful openness.
This episode has so many tender moments – from his coming out story to his thoughts on sex education for youth to his journey to becoming a sacred intimate. I wanted to listen to him talk for hours.
So, settle in and get ready for a great chat with TT Baum.
Psst…did you know you can follow Sex Gets Real on Twitter and Facebook? It's true. Oh! And Dawn is on Instagram.
In this episode, TT and Dawn:
Explain what Bondassage is (think kink meets massage, but taken to the 100th degree). TT uses it to help clients learn how to surrender to their bodies and their pleasure experience.
Answer a listener question about being young, closeted, and gay. They want more coming out stories, and so TT generously offered to come on the show and share his story as a young man raised Catholic who really understood his way of doing sex was life-threatening in middle America. The fear that young gay & queer youth have is so real and valid.
Talk about how coming out is a continual process – from being gay or bi or queer or trans to being kinky or non-monogamous or not wanting to follow the family tradition around certain professions. Each time you come out, there's someone new or a new situation right behind that requiring you to come out yet again.
Dive into how poorly we do sex education and relationship education for gay & queer youth. We are failing all youth when it comes to sexuality, sex, gender, and relationships. Abstinence education does not work.
Dig into TT's top 5 take-aways for what people NEED to know about sex. TT pretends to be the sex education czar for a few minutes – imagine peer led, peer organized, peer-based sex education. Whoa.
Circle back to TT's sexual identity, since Dawn made the mistake of declaring it without asking. Work in progress, folks! Work in progress.
Roll around in TT's work as a sacred intimate – how he found he way into this profound profession and what it's all about. From talking to touching to exploring what embodiment means, it's a beautiful practice.
Reveal why asking for what you want and having it rejected is actually a wonderful thing. There is power in the give-and-take, the negotiation, and the discussion around what feels good and what you'd like to try.
Explore ways for people to learn what they desire. From masturbation to finding your voice, becoming aware of your desire and embodying your pleasure is possible.
Resources discussed in this episode
About TT Baum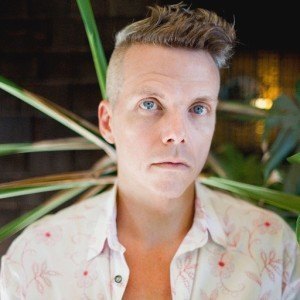 TTBaum is a Sacred Intimate and Sex Educator based in San Francisco. He has been dubbed a pleasure activist and a warrior of love. TT's path to sexual awakening began over a decade ago. He has refined a powerful style of erotic facilitation that integrates his own sexual research with the teachings of his mentors (among them, Joseph Kramer, PhD., AnnieSprinkle, PhD. and Barbara Carrellas).
TT has a unique approach to supporting clients mastering their own erotic energy.
In his own words:
"As a Sacred Intimate, I have been called to provide my clients with new tools and experiences to awaken into a more satisfying and intimate sexual existence. To this end I see my practice as a Sacred Intimate from a holistic place that requires me to consider the harmony of the entire being: physical, emotional, spiritual and mental."
Check out TT's website integral-eros.com and follow him on Twitter @integraleros.
Listen and subscribe to Sex Gets Real:
Use the player at the top of this page.
Now available on Spotify. Search for "sex gets real".
You know I love hearing from you, so here's how to reach the show
Call or text: 747-444-1840 (standard messaging rates apply)
Email: info@sexgetsreal.com
Contact form: Click here (and it's anonymous)