Podcast: Play in new window | Download
If you're listening to this on June 12th, 2016, you still have time to enter the celebration giveaway! The winner gets an njoy 11 worth $310. Check out the details here. Giveaway closes at 11:30pm ET in the U.S. 6/12/2016.
Oh, and be sure to pop over to Kickstarter to check out the new sex game Weapons of Mass Seduction. It looks awesome and inclusive.
Elle Chase joins the show this week, and it is such an incredible discussion.
LadyCheeky, Elle's very famous Tumblr, is a resource that I mention regularly on this show. Lady Cheeky is not about getting off, but rather about getting aroused and sitting in those erotic experiences a little longer, savoring the sensual. We dive into the back story that brought her to this point with a world-renowned porn site.
This episode is all about fat sex, fat bodies, and finding your own way to pleasure. Elle's approach to embodied consent is glorious, and her advice to a listener who can't orgasm without a vibrator is definitely worth a listen.
Don't forget: Dawn just revamped her one-on-one coaching packages and spots are filling up. If you need some help around sex, your relationship, and connecting with a loved one, you can check out her programs over on DawnSerra.com.
In this episode, Elle Chase and Dawn:
Expose how Lady Cheeky got started, which is Dawn's go-to site for keeping her long distance relationship sexy and alive. Tumblr for the win in helping Elle explore her sexuality.
Discuss how desperately we need more erotic pornography and sensual pornography that shows the intimacy and the connection that so many of us are hungry to create and experience in our own lives.
Gush over SheVibe's new #NSFW Totally Naughty Coloring Book which was created in partnership with Elle and her Lady Cheeky aesthetic.
Talk about Elle's new book for fat bodies called "Curvy Girl Sex" which you can pre-order now!
Groan about the cultural myth that fit people don't want to be with fat bodied folks. Wrong. Both of us can prove it, too. In Elle's words, "Who am I to tell [my lover] what he's attracted to?" If he says it, believe him.
Reveal their experiences with loving their bodies and all the ways that can play out in sexual relationships and in relationship with yourself.
Get vulnerable, exposing their own insecurities about their bodies and how they deal with it.
Field a question from Delia about being fat and wanting to find a FWB. Won't it be more challenging to find someone who wants to sleep with her if she's bigger? Elle and I dig in.
Explain how embodied consent can be a helpful way to decide what kinds of sexual experiences you may want and the why behind your desires.
Answer "Every Woman's Problem" who wrote in with a question in about orgasms. She can't orgasm without a vibrator and she just can't accept that. But, 80% of vulva owners need clit stimulation to cum, so what's that mean for this listener?
Resources discussed in this episode
Terry Cole Whittaker's book "What You Think of Me Is None of My Business"
We-Vibe Tango bullet – if you want one, message me. I sell it!
Barbara Carrellas' "Urban Tantra"
Sheri Winston's "Women's Anatomy of Arousal"
Emily Nagoski's "Come As You Are"
About Elle Chase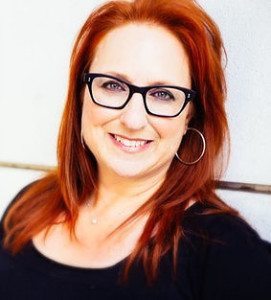 Sex educator and sexuality and body image coach Elle Chase, is a graduate of the comprehensive San Francisco Sex Information, Sex Educator Training Program and a member of the American College of Sexologists. Elle also serves as the Director of Education & Lead Sex Educator at the Los Angeles Academy of Sex Education, which offers pleasure inclusive classes, on sexuality, gender, sexual health and sexual lifestyles. She is also the author of the upcoming book "Curvy Girl Sex: 101 Body-Positive Positions to Empower your Sex Life," due out in January 20, 2017 from Fair Winds Press and as her alter ego Lady Cheeky, is the editor of the smash hit (very) adult coloring book, the #NSFW Totally Naughty Coloring Book by SheVibe.com.
Elle is also the creator, curator & editor of two award-winning and highly trafficked sexuality websites, www.LadyCheeky.com (NSFW) which has been named as the number one site for porn for women, and its companion editorial site www.SmutForSmarties.com which has been L.A. Weekly's choice for 'Best Sex Blog' since 2013.
Follow Elle on Twitter @TheElleChase and @LadyCheeky (NSFW).
Listen and subscribe to Sex Gets Real:
Use the player at the top of this page.
Now available on Spotify. Search for "sex gets real".
You know I love hearing from you, so here's how to reach the show
Call or text: 747-444-1840 (standard messaging rates apply)
Email: info@sexgetsreal.com
Contact form: Click here (and it's anonymous)
And be sure to pin, share, and Instagram this bad boy