Podcast: Play in new window | Download
It's time for a taste test of sex products. It's awful. That is all.
We did it for you and we may die of sex poisoning because of it.
Our favorites were the flavor waves condoms by ONE and the caramel body paint by Bijoux. As for the rest, completely and totally horrific. Don't put sugar in your bits, don't buy into the highly scented but practically poisonous novelty items, and DO NOT get the chocolate edible panties.
We were orange, like oompa-loompas for 2 days. Like this: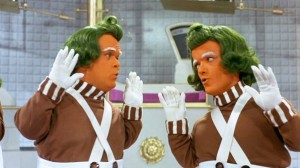 If you're looking for more information on that lube study, here is a great jumping off point by the body-positive sex toy store Sugar in Baltimore on Ph levels in lube and then the study on lube and anal sex showing increased risk of infection with glycerin-containing lubes.
You know we love hearing from you, so here's how to reach us
Call or text: 747-444-1840 (standard messaging rates apply)
Email: info@sexgetsreal.com
Contact form: Click here (and it's anonymous)
How to listen to our fabulous little podcast
Use the player at the top of this page.
Episode breakdown
0:38 – First up, flavored condoms by One. Let's see how this goes.
1:24 – Whoopsie! What hits Dawn's tit?
3:32 – As Dawn innocently tastes her condom covered fingers, Dylan makes an inappropriate observation.
4:48 – Raspberry nipple nibbelerz. Dylan has a flashback. Oh god, it's bad. It's so bad.
6:08 – If you like cherry medicine, this is for you.
6:34 – Dylan picks some flavored lube by Wet. This is when things really start to go south.
8:27 – "It's like soap!" That's not winning the lube test.
9:27 – We are temporarily redeemed by Poeme caramel body paint from Lotus Blooms. But it's a small respite in a sea of horrible sex products.
11:27 – Ass tastes better than all of these things, so far.
14:01 – Dylan ponders about the slipperiness of her shit after eating all these oils and lubes.
14:36 – Dawn tries to surprise Dylan with special mints, but Dylan isn't having it. And then our mouths go numb. Blow job mints are a fail, people. A big, massive fail.
16:11 – Bad blow jobs and not fun sex. Thanks, Doc Johnson.
17:29 – Edible panties are the worst thing that's ever happened to us. Scared for life and it dyed us orange. And sugar against your genitals? How is that a good idea? IT'S NOT.
20:36 – Dawn's had enough with the bad sex novelty products and snaps. Plus she's an Oompah-Loompah now.
21:34 – A study about lubes that contain salt and glycerin can cause serious damage, including increased STD risk.
And be sure to pin, share, and Instagram this bad boy