Podcast: Play in new window | Download
Grab a cup of tea, settle in, and prepare to be amazed. When Kate Lister, creator of Whores of Yore, agreed to come on the show, I did cartwheels.
And it's pretty evident why as you listen to this fascinating and hysterical episode all about the history of sex, porn, and sex work.
Kinky Victorians who loved spankings and piss play? Check.
Medieval monks drawing trees full of dicks and women making strap-ons out of bread to fuck each other? Yep.
From the oldest recorded dildo in history to Kate's research on sexual violence in contemporary media, you will learn more about the history of sex than you ever knew possible, and you'll giggle all the way.
Follow Sex Gets Real on Twitter and Facebook. It's true. Oh! And Dawn is on Instagram.
In this episode, Kate Lister and I talk about:
The word "whore" has an important history that Kate wasn't aware of when she first started "Whores of Yore." There's a whole process of reclamation around that word for sex workers, so we need to be aware of the social stigma when we use it. Kate mentions Toni Mac's TED talk about the laws sex workers really want.
"Whore" is a really old word and it's always been a term to stigmatize and abuse women.
How Whores of Yore got started and Kate's shock over how it's snowballed.
The oldest dildo discovered to date (it's 28,000 years old), and all of the willies Kate tweets about. Here's an example of an old dildo.
A tree full of penises, a woman taking a walk with some penis geese? Just a normal day as a sexuality historian.
BDSM and kink are as old as human sexuality, and Kate's research demonstrates that kink is not bizarre or unusual but rather a normal part of how human's have experienced sex through the ages.
Sex work and how it is not the oldest profession in the world. Sex work only became a job once capitalism and commerce became a thing. Prior to that, sex work was not even part of the vocabulary for indigenous people.
In a podcast first, you'll hear "make it pink and stick macaroni pasta on it" in reference to pubic hair.
We roll around in some older phrases for various kinds of sex and sex work. "Warming the husband's supper" is now part of my vocabulary for life. Also, "sneezing in the cabbage." Seriously.
Some feelings from a fellow in the 600s about oral sex and semen in the mouth.
Bread strap-ons. They were apparently a thing. I am so intrigued.
A love spell from centuries ago that involved kneading bread with your vulva and feeding it to the object of your desire. I am NOT making this up.
Want to see the tweet that Kate sent during the episode? Check it out. All the urine!
Kate's research into sexual violence and contemporary media. Game of Thrones has tons of sexual violence and violence in general, and people excuse it as historically accurate because we have cast our history as sexually barbaric. But research has not found any evidence that things were sexually violent in medieval times or that Vikings raped and pillaged. We are creating myths about our past, and Kate wonders if it's a way for us to explore our own fantasies and desires around sexual violence.
Resources from this episode
An article about Whores of Your in The Daily Dot
About Kate Lister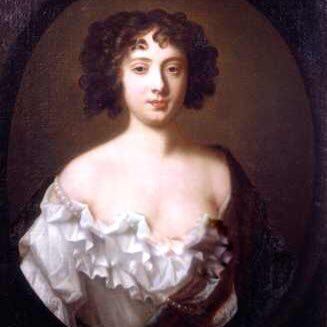 Dr Kate Lister is a researcher at Leeds Trinity University in historical attitudes to sexuality and sex work. She has published on the history of media narratives around sex work, the history of menstruation and sexual violence in historical dramas.
She is the curator of the popular Twitter account @WhoresofYore where she tweets the history of illicit sex and works to promote sex worker rights and challenge stigma to over 57, 000 followers. Kate is currently working with leading sex worker rights activists and historians to expanded the Twitter feed to a website and online archive that will allow sex workers to tell their stories, and bring sex work history to an even wider audience.
You can also follow along on Instagram @more_whores_of_yore.
(Note: this image is from Kate's Whores of Yore Twitter.)
Listen and subscribe to Sex Gets Real
Use the player at the top of this page.
Now available on Spotify. Search for "sex gets real".
Find the Sex Gets Real channel on IHeartRadio.
Hearing from you is the best
Call or text: 747-444-1840 (standard messaging rates apply)
Contact form: Click here (and it's anonymous)