Podcast: Play in new window | Download
Conner Habib generously agreed to jump on the phone with me at the last minute for this week's episode, and our conversation is incredibly political and philosophical in ways you don't often hear on the show.
This is my second time interviewing Conner and both times we've chatted, I've felt challenged and inspired to think bigger.
Strap on your thinking cap and get ready to feel stretched by some of Conner's ideas about feminism, sex work, consent, and oppression.
I also invite you to listen to the entire conversation before forming your ideas and thoughts about some of the radical things Conner has to say. He often makes me uncomfortable with his visionary approach to sensitive subjects like consent, but as you'll hear, he is as self-aware and thoughtful as he is provoking.
Follow Sex Gets Real on Twitter and Facebook. It's true. Oh! And Dawn is on Instagram.
In this episode, Conner Habib and Dawn talk about:
Why Conner is so driven to think in new ways and break existing paradigms in the world. His thoughts on revolution, resistance, and vision are deep and meaningful.
The ways that feminism has failed sex workers and how the most violent anti-sex work advocacy being done in the world anymore come from feminists, and not ultra religious factions.
Listening to a variety of voices inside of a movement versus only listening to the stories and voices of people like us or who we find likable. The idea that there is a "right kind" of victim of oppression and how that holds movements back.
California Proposition 60 and why it's so scary. It's not just a bill to get sex workers to use condoms. It's much more insidious than that. Plus, from a body autonomy perspective, each person has a right to choose what kind of protection they'll use with their own body during a sexual experience, including consentually deciding no protection at all. Prop 60 wants to take that choice away for porn performers.
Why porn is legal in California and New Hampshire versus why other versions of sex work are still illegal. It's a fascinating little distinction.
Conner's provoking perspective on consent and why he thinks a lot of the models we are working with are short-sighted and flawed. We don't have answers as we dig into this, but it will definitely get you thinking.
The importance of being a social justice warrior if you're truly invested in sexual freedom – we can't be free of sexual oppression without the elimination of all other forms of oppression.
About Conner Habib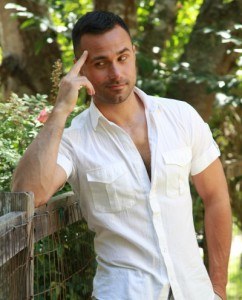 Conner Habib is an author, a lecturer, a porn performer, and a sex workers' rights advocate. He serves as Vice President of the Adult Performer Advocacy Committee and a member of PEN America.
His essays have appeared in dozens of print and online publications, includingThe Stranger, Vice, Salon, Slate, and more. He gives lectures around the country about sexuality, spirituality, pornography, science, and art.  He teaches writing one-on-one and in groups. For seven years, he was an award-winning gay adult performer, and continue, occasionally, to perform in adult film. He is the only person who has ever won awards for writing, teaching AND porn.
Follow him on twitter @ConnerHabib.
Listen and subscribe to Sex Gets Real
Use the player at the top of this page.
Now available on Spotify. Search for "sex gets real".
Find the Sex Gets Real channel on IHeartRadio.
You know I love hearing from you, so here's how to reach the show
Call or text: 747-444-1840 (standard messaging rates apply)
Email: info@sexgetsreal.com
Contact form: Click here (and it's anonymous)