Podcast: Play in new window | Download
Have you taken the poll on sexgetsreal.com yet telling me where in the world you are? I want to take this show on the road, but first, I need to know where you are!
This week's chat is one of my favorites. Andre Shakti is an absolute delight. The first time I saw her in person at Sex Down South last year, I was in complete awe. She is this vibrant, powerful force to be reckoned with, and when she said she'd come on the show I was completely tickled.
We dive into sex work, fetish wrestling, porn, and more. One of the things she mentions during our chat is how we do not have any resources in the world on how to be a good consumer of sex work or of porn. She draws an parallel between Julia Roberts and porn performers that is fantastic.
Plus, we talk about the importance of letting go of goals in sex and instead, getting to know your body and celebrating what it's capable of, instead of obsessing over what you wish it could do.
Psst…did you know you can follow Sex Gets Real on Twitter and Facebook? It's true. Oh! And Dawn is on Instagram.
In this episode, Andre and Dawn talk about:
What fetish wrestling is all about. In Andre's words, it's basically feminist fight club and she got her start with a subset of fetish wrestling called catfighting. We also talk about her clients who hire her to wrestle and what those private sessions can be like.
How being attracted to someone and wrestling can be a really bad combination.
Andre's brand and version of pro Dominatrix work. Is it all wrestling and physical domination or is it other stuff like BDSM?
Andre's advice to folks who want to get started in pro Domme work and her own trajectory as she found her niche in the business.
What makes someone a really good sex work client. Andre talks about what makes for a great client and the factors that most people don't know go into the behind-the-scenes part of being a sex worker. I love this so much.
Ethical consumption of porn, and Andre talks about her experience as a porn performer. She also talks about this huge misconception that people have about whether they can tell if a performer is enjoying themselves just by watching a scene or not – which is utter rubbish and just another way to police experiences.
How much of a disconnect there is with people's viewing experience of a mainstream movie and the fact that an actress isn't her role versus porn performers and how people assume the perform IS their role all of the time, not an actor in a fantasy scene that's entirely made up.
Fisting! It's one of Andre's favorite things, and every time Dawn brings it up, listeners react pretty strongly to it. Andre also talks about the difference between fisting an ass versus a pussy. Calf-birthing gloves come up.
Celebrating tiny milestones when you're being sexually adventurous and not letting the goal or the hope drive how you feel about the way things actually unfold.
Resources discussed in this episode
Violet Blue and TinyNibbles.com – resources on ethically produced pornography
About Andre Shakti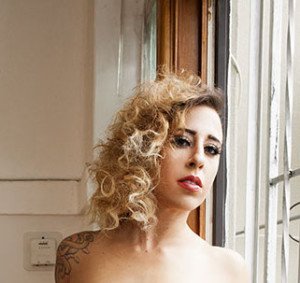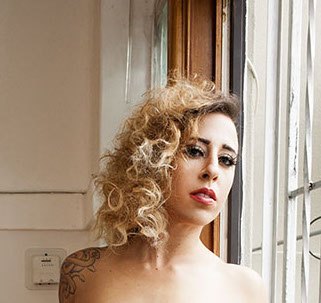 Andre Shakti is an educator, producer, activist, and professional slut devoted to normalizing alternative desires, de-stigmatizing sex workers and their clients, and not taking herself too seriously. She wrestles mediocre white men into submission and writes about sex work, queerness and non-monogamy for Cosmopolitan, Harlot, MEL, and more. She can frequently be found marathoning Law & Order: SVU under a chaotic pile of partners and pitbulls, and yes, she knows how problematic that show is.
Follow Andre on Twitter @andreshakti and check out her super sexy website AndreShaktiXXX.com (NSFW).
Listen and subscribe to Sex Gets Real
Use the player at the top of this page.
Now available on Spotify. Search for "sex gets real".
You know I love hearing from you, so here's how to reach the show
Call or text: 747-444-1840 (standard messaging rates apply)
Email: info@sexgetsreal.com
Contact form: Click here (and it's anonymous)