Podcast: Play in new window | Download
Are you ready for a mastery level version of Sex Gets Real? Good. Because this week, Sarah Mueller from Smitten Kitten joins the show to share her research on lube, as well as her findings around herpes and STIs.
Did you know some lubes (like KY) actually INCREASE the likelihood of STI transmission because the lube damages your genital tissue? And why does silicone lube damage silicone toys but condoms filled with silicone lube don't?
We also field a question from a listener about bacterial vaginosis, which takes us down the rabbit hole of just how little the medical community knows about this condition as well as STI diagnoses.
This is an episode you'll want to listen to more than once because the information is so damn important. Settle in and prepare yourself!
Psst…did you know you can follow Sex Gets Real on Twitter and Facebook? It's true. Oh! And Dawn is on Instagram.
In this episode, Sarah Mueller and Dawn:
Start by talking about how incredibly different a high quality lube is from most of the standard lubes you see in the grocery store. Some lubes are really bad for the body and can increase the risk of STI transmission.
Cover the lubes and ingredients you absolutely MUST avoid. The answer might surprise you.
Reveal why the irritation some folks experience after a PAP smear may not be from the scraping of the cervix, but instead the lube used by the doctor.
Share some recommendations for lubes you should consider investing in, like Sliquid, Water Slide, Blossom Organics, SUTIL, uberlube, & Pjur Silicone.
Talk about something really cool that Dawn didn't actually know – why doesn't the silicone lube in condoms react with her silicone toys? Sarah enlightens with a rad answer.
Help answer a question from I'm Yeasty about her endless battle with bacterial vaginosis. This is very common and antibiotics (which doctors usually recommend) can often make it so much worse. So can a porous (toxic) sex toy, which can be reinfecting you over and over again.
Discuss Sarah's research into herpes and STIs. Research shows that STIs are almost an inevitability for sexually active adults (just like getting a cold if you interact with humans), but while the research makes it clear it's super common, most people feel a lot of shame and fear about STIs. How do we bridge that disconnect?
Share the reality of how medical professionals are not trained to be empathetic and educated around STIs, so often they won't test for STIs because they don't want to deal with the reaction from their patient. The stigma is causing tremendous miscommunication and trauma on all sides.
Explore some of the really harmful decisions people make after an STI diagnosis because they're so terrified of the stigma and fallout from a partner.
Resources discussed in this episode
Ella Dawson's amazing TED Talk about STIs is a must see.
The Smitten Kitten carries most of the lubes mentioned above plus the She Pack for your vagina.
About Sarah Mueller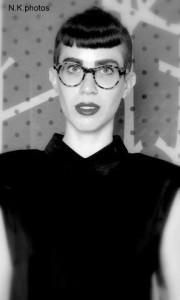 Sarah E. Mueller has been a Sex Educator at The Smitten Kitten since May of 2012. After nearly four years at Smitten Kitten Sarah realized personal lubricants are a huge contributor to people's sexual satisfaction and health, but many struggle to find lubricants without adverse effects. Sarah then began an extensive research project on personal lubricant ingredients, regulations, and interactions with the body.
Currently Sarah is the Lead Research and Education developer at The Smitten Kitten, and is expanding her research and educational offerings to topics from STIs, Cancer Treatment & Sexual Function, Menopause, and Social Justice within Gynecology. Her research has also allowed her to contribute to Allison Moon's Girl Sex 101, contribute to the lubricant information in Joan Price's The Ultimate Guide to Sex After Fifty, and she has been interviewed as a Lube Expert on the Sexational Blog, VICE Magazine's Blog, and Tristan Taormino's Sex Out Loud Radio Show.
Want to learn more about all of the awesome work Sarah is doing? Follow her on Twitter @sarah_e_mueller or by emailing her at sarah at smittenkittenonline dot com.
Listen and subscribe to Sex Gets Real:
Use the player at the top of this page.
Now available on Spotify. Search for "sex gets real".
You know I love hearing from you, so here's how to reach the show
Call or text: 747-444-1840 (standard messaging rates apply)
Email: info@sexgetsreal.com
Contact form: Click here (and it's anonymous)